DeWalt Dives Into 12 Volts
Chris   June 29, 2010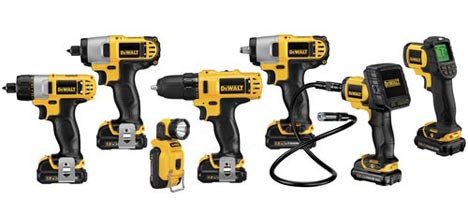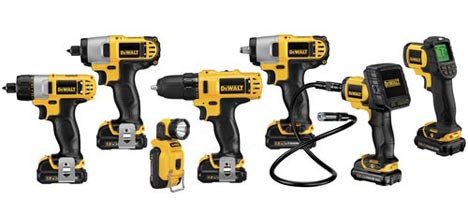 DeWalt might have been the last of the big name manufacturers to release a line of 12-volt ultra compact lithium-ion tools, but when they entered they landed with a rather large thud. While the other brands have released a tool here and a tool there, DeWalt has come out with a full line of seven tools all at once. The new line includes: 1/4" Screwdriver ( DCF610S2), 3/8" Drill/Driver ( DCD710S2), 1/4" Impact Driver ( DCF815S2), 3/8" Impact Wrench ( DCF813S2), LED Work Light ( DCL510), Inspection Camera ( DCT410S1), and Infrared Thermometer ( DCT414S1).
In a somewhat strange move, DeWalt moved away from the pretty much standard battery-in-handle design for ultra compact 12-volt tools, and went with a battery-below-handle design. They wanted their tools to offer a more comfortable grip and have better balance – something they could not do with the battery-in-handle design. This design also allows the user to stand the tool upright, something that the other brands don't do as well. I don't know if the change has had any affect on size and weight, so we will have to see how it stacks up with the competition.
Comfort is great and all, but the 12 Volt Max line is about more then that; the specifications look great and are equal to or better then the tools their competition offers. We will just have to see how everything fares in the real world. The one odd tool in the line up is the 12 volt impact wrench. Impact wrenches are used in tasks that require a lot of torque, so I find it weird to see it in a category that typically trades power for size. Look for these tools in stores later this fall.