Cool New Take On The Sawhorse
https://www.tool-rank.com/media/listing/photos/thumbnail/300x300s/bc/17/68/centipedesawhorse-37-1373531565.jpg
Chris   July 11, 2013  
Inventor Ed Adkins has come out with what he has named the Centipede Sawhorse, but there is one problem, though it seems to be able to do all the things a sawhorse is capable of doing, it looks nothing like a sawhorse. But who says a sawhorse has to look like a horse?
Though many of us use sawhorses to break down sheet goods on the job site, they are not always well suited for the task. Thin sheets might sag in the middle, which would require either a third saw horse, or some other type of support. The Centipede Sawhorse is a completely unique design that folds up to be compact, yet provides support for a full 4' x 8' sheet with 15 points of contact. This is possible by using an expanding design similar an expanding gate or easy-up canopy.
The points of contact are topped with Polymer that is soft enough to be cut right through without damage to your saw or saw blade, and they also accept accessories to further expand the capabilities of the Centipede Sawhorse. Bench clamps would allow the user to hold down materials for extra stability, while X-Cups are designed to hold standard 2 x 4 boards.
Right now the Centipede Sawhorse is a prototype that is seeking funding on IndieGoGo. To get a smaller 2' x 4' model you will have to pledge $60. A pledge of $120 could get you two 2' x 4' models or one of the 4' x 8' models. There are also other pledge options that offer the Centipede Sawhorse and the accessories mentioned.
2004

views
July 11, 2013
-
03:04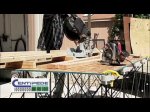 The Centipede Sawhorse
Pre-order your Centipede Sawhorse here: http://igg.me/at/centipede-sawhorse/x/3621241 The Centipede Sawhorse is a heavy duty yet surprisingly lightweight job site work support system that will have you saying goodbye to traditional saw horses altogether. With many points of support, the Centipede can support an incredible amount of weight while keeping even the thinnest sheet material from sagging as it does with traditional saw horses. Featuring a unique modular design, the Centipede allows for the use of included Bench Clamps to keep materials in place and X-Cups that conveniently accommodate standard 2 x 4 boards. The patented design of the Centipede features sturdy vertical posts constructed of welded steel tubing, flat steel cross beams and durable molded polymer feet and P-Tops that prevent damage to the board, saw blades or the Centipede.
saw horse
•
crowdfunding
•
Centipede Sawhorse