Blackhawk's HawkHook Rescue Knife Wants To Be Your Everyday Carry
https://www.tool-rank.com/media/listing/photos/thumbnail/300x300s/2d/39/18/1075_blackhawkhawkhook_1323120676.jpg
Chris   December 05, 2011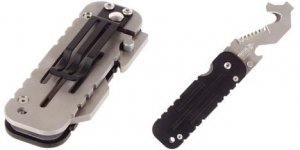 I do not cover many knives here on Tool-Rank, though I used to try and find any excuse to use them as a child in the Scouts, but after seeing the Blackhawk HawkHook on a TV show the other day, I knew I had to share this compact rescue knife/tool with you.
There are a ton of rescue knives and tools on the market these days that can do everything from cut away seat belts, to break cars windows to help you escape from danger, or assist in a rescue. What sets the HawkHook apart from all of these is its size and weight. At only 2 1/4-inches long when folded and weighing only 3.2 ounces, the HawkHook has the ability to break through car windows with little effort thanks to a small point on the edge of the blade. Other features include a cutting hook, a small serrated edge, bottle opener, wire stripper, and flat head screwdriver/pry bar. You can cut and break your way out of a car wreck, and then go open a few drinks to relax. Let's hope you are not opening your drinks first, then escaping from a car wreck.
The rescue features and the design itself, I feel, make the HawkHook a great contender for an everyday-carry knife. Even those who might not feel comfortable carrying a knife around, might feeling better using the HawkHook because it can still accomplish many everyday cutting needs, but does so without a sharp knife point.
The BlackHawk HawkHook is more expensive than a typical knife of this size at around $40, but it is one of the smallest rescue tools I have seen. It should be small enough to carry around comfortable daily, but you can't use it if it isn't with you.
folding knife
•
screwdriver
•
knife
•
rescue
•
rescue tool
•
Blackhawk
•
HawkHook
•
window breaker
•
bottle opener