DeWalt 20" Variable-Speed Scroll Saw - DW788
Hot
https://www.tool-rank.com/media/listing/photos/thumbnail/300x300s/eb/f2/74/567_DW7881_1258245813.jpg
Chris November 14, 2009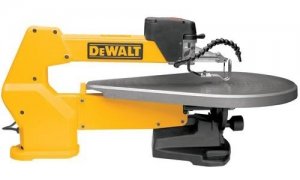 Includes:
Hex Wrench
Blades
Unique, double parallel-link arm design for reduced vibration, less noise, and increased accuracy
Variable speed performance from 400 to 1,750 RPM for precision work
Durable cast iron table, tool-free blade clamps, and up-front controls for convenience
Measures 29-1/2 x 19-1/2 x 12.1 inches; weighs 56 pounds
Double parallel-link arm design dramatically reduces vibration and noise, for extremely accurate cuts
Exclusive tool-free blade clamps allow blade changes in seconds
On-off switch, electronic variable speed, flexible dust blower and blade-tensioning lever are all located on the front upper arm
Arm design pivots from the back of the saw to the front, shortening the arm movement for smoother, quieter operation
Arm lifts so blade can be easily threaded through the material for inside cuts
Unique arm design keeps the blade perpendicular to the work, dramatically reducing over or under cutting
Oversized, cast-iron table provides excellent material support and bevels 45° left and right
User reviews
Great scroll saw
I've had this saw for about a year with not one problem. Extremely smooth at all speeds. No vibration at all. Easy blade change. With the rear leg extensions, you're right on top of your work. You can put the puffer right on the edge of the blade and it is still out of the way. I would add a foot switch and an upper arm lift. The later keeps you from having to put a block under the arm when changing blades.

I would highly recommend this saw.
Pros
Large table. No vibration. Very versatile