FREE
Find Hot deals and coupons on tools. Hot tools sale from online tool stores you love.
1 results - showing 1 - 1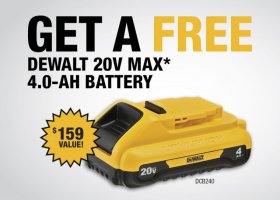 Tool Deals
Chris   September 16, 2022  
Now through October 31, 2022, DeWalt is offering a FREE 4.0Ah 20V Max Battery when you spend $300 or more (not including tax or S&H) on select DeWalt 20V Max Cordless Power Tools within a single-transaction purchase. The free battery you will receive after rebate is DeWalt Model: DCB240, which is valued at $159.
1 results - showing 1 - 1