Archived Deals
Find Hot deals and coupons on tools. Hot tools sale from online tool stores you love.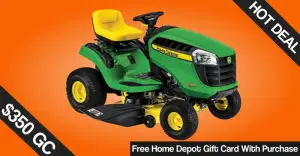 For a limited time you can get a Free Home Depot Gift Card worth up to $350 with select John Deere purchases at The Home Depot. The value of the Home Depot gift card is determined by the model of the John Deere Tractor or Zero-Turn mower that you purchase. Gift Cards values could be $150, $250 or $350 depending on the model. You can check this in the chart below. The offer is good for Online or in store purchases, though the Gift Card will arrive via mail-in-rebate.
It is pretty hard to get discount coupons for Lowe's these days, but a few times a year you can get Lowe's gift cards on sale with 10% off or more. Today's deal comes from PayPal through eBay. The deal is for a $100 value Lowe's gift card for a cost of only $90, which is a savings of 10%. The gift card will be sent via "Fast Email" which means you don't even have to wait for the snail mail. If you see yourself heading over to Lowe's for some spring home...
Blain's Farm & Fleet has the DWMT75049 DeWalt 192 Pc. Mechanic's Tool Set on sale for $149. The regular price for this set is $199, though it is typically sold for $209 on Amazon. This set seems to be well received with a rating of 4.7 out of 5 stars on Amazon.
Sale Price
$1,299.99
Reg. Price
$1,499.99
ACME Tools has a $200 off sale on the Nova Voyager DVR 18 In. Drill Press (Model: NOVA-58000T) which brings the price from $1499.99 down to $1299.99 + freight shipping. What makes the Nova unique from other drill presses on the market is that it uses digital technology to control motor speed and much more. Using the on screen display you can dial in specific RPM's for cutting materials or you can let the drill choose the correct speed for you. It even has a digital depth guide that can stop the drill when the correct...
To get free shipping, simply place your order of $35 or more at Rockler Woodworking and Hardware by using the link above or entering above promotion code at checkout. Additional shipping charges will apply for select over-sized items, express orders, and orders to Alaska, Hawaii, Guam, Puerto Rico, and the Virgin Islands.
$20 off $100 Makita orders. From February 1, 2017 through March 15, 2017, get $20 off select $100 Makita Tool orders from ACME Tools. Use promo code MAKITA20. The deal is limited to select Makita products, and there are currently 51 tools that qualify for the discount. This deal is also available on Makita Tools that are shipped and sold by Amazon (not a 3rd party seller). The discount automatically applied at checkout. Buy from Amazon.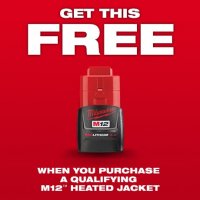 Milwaukee Tools is running a promotion for a FREE M12 3.0 Battery (48-11-2430) with the purchase of qualifying M12 Heated Jacket orders. It appears the offer is valid on both Kits and select (Jacket Only) purchases from Authorized Dealers of Milwaukee Tools. If you already have a charger, the free battery is a great way to get started with a heated jacket without having to steal a battery from your tools. If you are new to Milwaukee Tools, the Kit option comes with a charger and a battery, so the extra battery will give you some...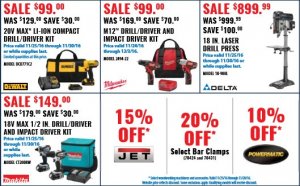 We got a leaked copy of the ACME Tools Black Friday and Cyber Monday ad scan and the deals do not disappoint. In addition to brand deals like 15% off Jet tools and 10% off Powermatic tools, they also have some specific deals on popular cordless combo kits from the major brands. One of the best deals, though, is the 15% mark down on DeWalt TSTAK and ToughSystem cases. I am a huge fan of the ToughSystem and this is a great time to expand. Another sweet deal is $50 off Honda generator...
The Black Friday deals over at Inventables have already begun. As of today, many of their CNC machines are on sale and starting on 11/21 their materials and accessories will go on sale. The deals are applied automatically to everyone, you don't need to enter a code or anything. Machines: $250 off Carvey, $100 off X-Carve, $50 off X-Carve upgrade kit. Bits & Materials: Purchase $200 or more in bits and materials, receive a $50 gift card for a future purchase.
From November 14, 2016, through December 22, 2016, get $25 off select DEWALT purchases of $100 or more when shipped and sold by Amazon. Discount automatically applied at checkout. The deal says it is limited to select DeWalt products, but the Amazon page lists over 3000 DeWalt tools and accessories. You can mix and match DeWalt products to reach the $100 minimum. This is one of the best DeWalt deals of the year.