Chris   December 01, 2016  
0
2
One of the most important tools on the jobsite is the box level, but at the same time it is one of the most fragile. If it changes in just the slightest amount, all of the work done with it will be wrong. To ensure your work is never the fault of a bad level, Milwaukee Tool has introduced their new line of REDSTICK box levels, that promise to lead the industry in durability and deliver guaranteed accuracy.
Chris   November 13, 2016  
0
1
It is time for the Tool-Rank 2016 Christmas Gift Tool Buyers Guide. Every year, we at Tool-Rank put together a list of tools or accessories that we think would make great Christmas gifts for the tool lover in your life. Many of these tools we have tested ourselves, but some of them we may have come across over the course the year and we think they are awesome or innovative.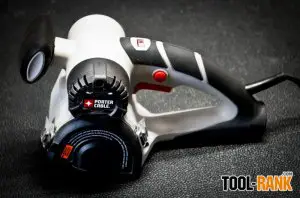 Chris   November 11, 2016  
0
11
A few years ago I wrote about an impressive looking tool that appeared to offer "the versatility of an angle grinder with the ability to follow the grain like a belt sander", but sadly, said tool was only a prototype. Today that tool is now available to the masses, known as the Porter-Cable Restorer, and I am happy that I am finally able to test it out and give it a review.
Chris   November 08, 2016  
1
1
We are seeing more and more tools improved with the addition of technology that makes them smart. Nova is bringing the improvements that come along with the Smart Motor technology from DVR Technology Developments, Inc. to their Voyager 18" Drill Press (NOVA-58000T).
Chris   November 03, 2016  
1
1
Cutting out a square hole typically requires that you make four separate cuts—one for each side. What if I told you that there is a new tool called the Quadsaw that can cut all four sides at once, and the tool is powered by a regular cordless drill? Imagine how much time you could save.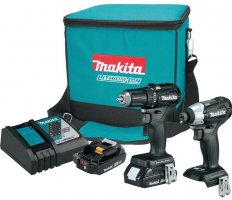 Chris   November 01, 2016  
2
1
Many tradesmen, myself included, are not interested in the biggest, badest new tool on the market. What makes us happy is a tool that can do the job, yet takes up as little weight or space as possible; this is what Makita's Black line of 18V Sub-Compact Brushless Drivers seems to be offering.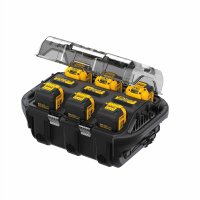 Chris   October 27, 2016  
1
2
The decision for landscapers to switch out their outdoor power equipment from gas to cordless electric just got a bit easier thanks to the new 40V MAX 6-Pack Charging Station from DeWalt, which has been specifically made for DeWalt's line of cordless outdoor power equipment.
Chris   October 20, 2016  
1
1
Jet recently announced a new scroll saw that features a "revolutionary blade change process", but the first thing that popped into my head was, "this looks a lot like an Excalibur Scroll Saw". After some internet sleuthing, I discovered that Excaliber Scroll Saws are no longer available. The unavailability of the Excaliber Scroll Saws might not be such a bad thing, though. From what I have seen, the Jet Scroll Saw has some pretty nice upgrades.
Chris   October 07, 2016  
1
1
I seem to be always in the process of growing either hydroponic lettuce using the Kratky Method I wrote about in a previous article, or I am growing tomatoes. Since the Kratky method allows us to grow in just about any lidded container that can hold water, there is a constant need for me to calculate how much nutrient-solution (fertilizer water) I need to mix up for the various container sizes I use. So to simplify the process, I made up a hydroponic nutrient solution calculator for lettuce and tomatoes using Masterblend 4-18-38 fertilizer, Calcium Nitrate, and Magnesium Sulfate....
Chris   September 29, 2016  
1
1
I don't know what it is about LED lights, but I am kind of obsessed with them, and when I tell you I am excited about the new SysLite DUO LED Work Light from Festool, I mean it. A lot of this excitements has to do with the insane amount of light it can put out.