Chris September 18, 2013
0
1
Milwaukee is expanding their M18 cordless line with a slick looking new 5/8-inch SDS plus rotary hammer. It's only 12-inches long and weighs in at 5.5-pounds, which should make it ideal for portable or remote drilling.
Dickies, who is known for their affordable work wear, has announced that they have teamed up with JS Products to come out with a complete line of tool bags and accessories. From the look of it, the line is extensive and even includes bags specifically for painters and their tools.
When you hear the name Milwaukee Tool, I bet the first tools that come to mind are not hand tools; but maybe that should change. Milwaukee has been getting into the hand tool business over these last few years, and we've got word that even more tools are coming this May.
Chris March 15, 2013
0
19
Literally, if you took all of the products Bosch Germany announced the other day and multiplied them by X, they would surly weigh a ton or more. There are so many tools I don't know where to start—how do tools that talk to your smart phone sound?
Chris January 23, 2013
0
1
If you have visited the Milwaukee Tool website within the last couple of days you might have noticed that they have completed a major overhaul. It is now even easier to navigate through the categories, it is more visually appealing and also more organized.
Chris December 17, 2012
0
0
Bosch is in a unique position as a company to really help out the victims of hurricane Sandy, and they have committed $340,000 in aid to do just that. Not only is Bosch a huge power tool company that can aid in the rebuilding efforts with their tools, but Bosch is also a leader in home heating, solar, and more. Teaming up with Lowe's, GM and Habitat for Humanity, they will be sending out 24 'Mobile Response Units' to the areas affected by the storm. Continue on to the official press release to read more about the...
Chris October 02, 2012
0
3
Who do we turn to when we need saving? Why the Justice League of course. But who does the Justice League turn to when the Hall of Justice needs saving from disrepair? Apparently they turn to the Craftsman Technician and his trusty Craftsman Bolt-On Modular Tool System.
The 360 Laser Line technology that Bosch has developed has always been impressive to me. It offers much of the benefits of a traditional rotary laser but because it has less moving parts, it can be manufactured at a fraction of the cost. Not to mention that it is super handy to see the line all around the room. Bosch is now moving this same 360 technology to their CST/berger brand and have introduced the LL20 Exterior Self Leveling Line Laser.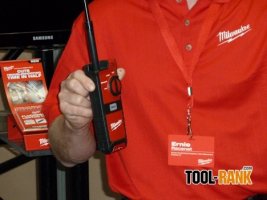 The city named Milwaukee may be known to many folks as the brewing powerhouse, but the brand name Milwaukee is known to many tradesmen as the tool powerhouse. Remembering back to my first mornings on a job site, where I noticed electricians gathered around a train of brown gang boxes, and where plumbers congregated similarly nearby, and where HVAC guys and pipe fitters too stood ready to lift open those heavy brown lids, and notably when the lids raised and arms rushed in, out came the stout red cases with the name Milwaukee in prominent white. Last...
The Worx JawSaw is one of those tools you see on the commercial and at first glance you dismiss it as being just another infomercial tool. Then you see the commercial again and start to realize it has possibilities. At third and forth viewing you begin to imagine how you would use the tool and how handy it would be to trim that overgrown tree in the backyard, you have now started to realize the potential of the tool. There is more to this than just being another tool on an infomercial. But maybe what you didn't realize, and...