Hot Deals
Find the latest sales on power tools, with coupons, discounts, and promo codes.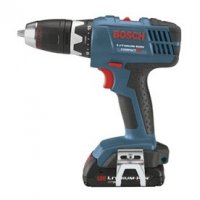 Chris November 11, 2012
0
1
Lowe's is in a giving mood this Veterans day, offering some nice discounts on even more power tools and some accessories. It looks like these deals will expire tomorrow so you better act while you can. Don't forget about the Lowe's Black Friday and Christmas Days sales we posted last week. Thanks Vets for our Freedom and for giving retailers a reason to have sales.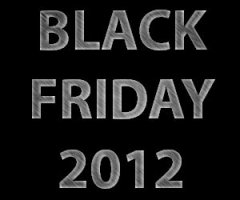 Chris November 07, 2012
0
1
It is never too early to start shopping for Christmas or to at least start planning for your Christmas shopping. To help you plan your shopping Lowe's has pre-announced a few of their Black Friday deals, and if you are ready to start shopping now, Lowe's has a number of tools already marked down. Some of these are really good deals that are much lower than what Amazon is selling them at, including the tools that are on sale right now.
Chris November 01, 2012
0
1
It looks like Bosch is one of the first tool companies to start gearing up for the Christmas shopping season by offering some nice discounts on tools. Now through December 25, 2012 Bosch has a number of 18-volt & 12-volt cordless combo kits marked down by $50. Not only is this a great way to save on some tools for yourself or a loved one, but by shopping at Amazon you are also supporting ToolRank. Win, win. Note: The $50 discount will be applied at checkout and is clearly labeled. BUY Bosch $50 Off Tools...
Chris October 09, 2012
0
0
If you are in serious need of getting organized, Amazon has some serious organizing storage bins and shelving units on sale for the month of October, and they are made in the USA. Amazon is offering 20% off of a number of Akro-Mils stacking/hanging storage bins that come in a range of sizes and colors. These bins are super tuff and can withstand a 250-degree autoclave and can handle just about anything you can load into them. The small 5x4x3 bin has a load capacity of 10-pounds, while the larger 15x16x7 has a load...
Chris September 10, 2012
0
1
I have always been one to wait and buy a tool when I can find it on sale. Why pay full price when you don't have too? If you too like a good sale, now might be the right time for you to buy some Bosch tools. Amazon is running a promotion until September 15th that gives you back either a $25 or $50 Amazon gift card depending on the Bosch tool or combo set that you buy. Just add both to your shopping cart and the gift card will show up as free when you go to check...
Chris August 02, 2012
0
1
Little Giant Ladder commercials have been on TV for what seems like forever and have featured some of the big names in home improvement TV. There have been a number of different models that have come out over the years and they are all pretty well received buy users. If you have ever shopped around for a Little Giant Ladder you might have noticed that the prices are all pretty even from store to store, so finding a good deal can be hard. When we do find a sale we take notice. Woot.com has the Little Giant...
A few months back I criticized Home Depot on Twitter for the rather lame coupons they were sending out in their Home Depot Pro newsletters. The coupon (advertised as a Home Depot Pro Exclusive) offered a savings of $5 of off a $150 or more purchase. Are you kidding me? What a joke. Well now it looks like Home Depot is finally offering real savings in these exclusive coupons they are sending out.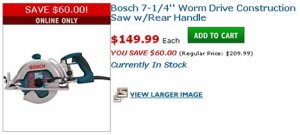 Many professionals consider the Bosch 1677M Worm Drive 7-1/4" Circular Saw to be a good upgrade from the classic Skil 77 Worm Drive and is comparable to the Skil Mag77. I should note that Skil is owned by Bosch Tools and that Bosch likely took some of the best of the Skill 77 to make the 1677M. You might have even noticed a couple of digits in the model number of the Bosch pay tribute to the classic Skil 77; the M also tells us that the saw features a light-weight magnesium foot plate. ...
Milwaukee just recently announced some new updated versions of their popular M12 cordless heated jackets and it looks like with the new model's release being just around the corner, CPO Outlets has marked down much of their current stock to just $139.99. This price includes the jacket, the battery and the charger. If you already have a M12 battery and charger, CPO also has select Jacket Only sizes and styles for only $99.99. The regular price of the Milwaukee Heated Jacket kits are still in the $170 range and I believe when the jackets...
It is the time of year again where Lee Valley kicks off one of their free shipping deals. You need to spend $40 or more to get the free shipping, but LeeValley is one of my favorite tool stores so it is easy for me to reach the requirement. Fathers Day is also just around the corner, so if you order quickly you might be able to get your order in before the big day. The good thing about buying from LeeValley is that you know you are buying good quality tools, and many of the...