Hot Deals
Find the latest sales on power tools, with coupons, discounts, and promo codes.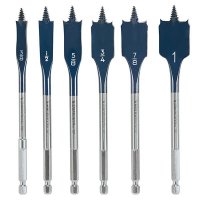 Amazon has one of my favorite drill bit sets on sale for less than $10, the Bosch 6-piece DareDevil spade bit set. Bosch's DareDevil spade bits were one of my first reviews back in 2008, and guess what, I still like them. They were even given the prestigious Tool-Rank Pick award, which has only been given out 10 other times.
Woot.com has a hot deal on a Proslat slatwall and 10-piece hook organization kit. The list price for this particular kit is $191.00, but it is on sale at Woot for only $124.99. For comparison, the slatwall alone sells for $160+ on Amazon, and you would still need to buy hooks for it.
If gardening is on your to-do list this spring, you might be interested in knowing that Lowe's has marked down some key tools that might make your projects go a little easier. For a limited time a Kobalt Shovel, Garden Rake, and Leaf Rake have been marked down 23-25%.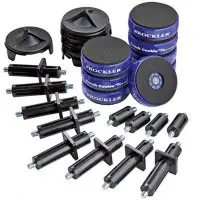 While Rockler's popular Bench Cookie Plus Master Kit normally sells for just under $64, it has come to my attention that it is currently on sale for only $39.99. The Plus Master kit not only includes a set of non-slip router cookies, but also a few different accessories that extend their versatility.
Chris February 13, 2014
0
1
Good small parts organizers are surprisingly expensive, and since the last small parts organizer deal was so well liked, I thought I would share another one with you. Amazon has the Stack-On SB-18 on sale for only $5.88, a savings of about 50%.
Chris February 07, 2014
0
1
Amazon has a new sale price on the Rockwell RK9002 JawHorse Sheetmaster. The Sheetmaster model is an upgraded version of the classic JawHorse that offers a larger clamping capacity of 49-inches, which allows it to clamp plywood and other sheet goods. The Rockwell Sheetmaster is typically priced at around $200, but the current Amazon price saves you about $25.
Chris January 31, 2014
0
1
Continuing on my quest to post more hot deals on tools and accessories, today we have the DeWalt DW616PK Fixed Base & Plunge Base Router Kit for the low price of $159.20. This is $20 cheaper than Amazon's regular price and much lower than some competing stores.
Chris January 29, 2014
0
1
A good precision screwdriver makes all the difference when working with small components. But if you want a good set, you usually have to pay good money for it. So it is a welcomed surprise to see a precision screwdriver set with high reviews on sale for less than $4.00.
Chris January 24, 2014
0
1
Amazon has a new lower sale price on the Porter-Cable 7312 Offset Base Laminate Trimmer. It was previously for sale at about $150 but has now been lowered to $125.77. As with all Amazon products its price could change at any time but usually it will stay the same for a couple of days.
Chris January 21, 2014
0
1
If you do a quick search on the internet you will see that the DeWalt DW788 Scroll Saw is going for anywhere from $440 up to $499. So when I saw that Amazon had recently lowered their price to $399.20, I knew I had to share this deal with you.