2 results - showing 1 - 2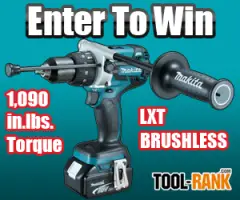 Tool-Rank
Chris   October 01, 2014  
0
1
Contest Information
Contest Ends
October 31, 2014
Tool-Rank is happy to be teaming up with Makita this month to give away their brand new 18V Brushless Hammer Drill/Driver. The Makita XPH07 delivers the most torque in its class at a jaw-dropping 1,090 inch pounds. Not only is it powerful, but Makita packed in all kinds of fancy technology that ensures that you get the most runtime out of your tool. To learn more about the XPH07 be sure to read my initial write-up on the new hammer drill.
Tool Blog
Chris   August 19, 2014  
0
1
Makita has just announced their newest brushless hammer drill, and it looks like they are not messing around this time. They say the XPH07 18-Volt Hammer Drill is able to deliver a full 1,090 in.lbs of torque, and leads the category in torque, speed, and run-time.
2 results - showing 1 - 2