7 results - showing 1 - 7  
Tool Blog
Chris   February 21, 2018  
2
1
When it comes to breaking down sheet goods, track saws are a great lower priced alternative to tablesaws, but a good portion of the cost of a track saw is in the track itself. Worx has found a way to lower the cost of their new WX530L ExacTrack Cordless track saw by allowing it to use any straightedge up to 1-inch thick as its "track".
Tool Blog
Chris   February 24, 2017  
1
1
The age-old question of whether you buy a jigsaw or a reciprocating saw has finally been answered;  you don't buy either, you buy a Worx Axis instead. The WX550L Axis is a new combination cordless tool from WORX that transforms from a jigsaw into a reciprocating saw and accepts standard blades from both tools.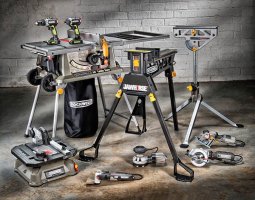 Hot Deals
Chris   November 18, 2014  
0
1
If you are paying full price this holiday season you are probably overpaying. With Christmas soon approaching, all it takes is a little research and you could be saving big on your holiday shopping. In this case, however, there is no research involved; Tool-Rank has teamed up with Rockwell Tools to offer coupon codes for Black Friday, Cyber Monday, and even a code that is good for the rest of 2014.
Tool Blog
Chris   October 25, 2013  
1
2
If you are not the type of person that likes to spend the afternoon using a rake to pick all the leaves that have fallen onto your yard, Worx might have something you would be interested in. Their LeafPro is a new universal collection system that takes the leaves from a blower/mulcher/vac and deposits them directly into a trashcan.
News
Chris   November 13, 2012  
1
0
I don't figure Mr. Bond, James Bond as much of a do-it-yourselfer, but I am guessing that if he was, he would feel the most comfortable using a powered driver like the WORX SD SemiAutomatic Driver. As you might have read in my article about it, or as you will soon see, it has a lot in common with the "tools" of his trade. BUY SD SemiAutomatic Driver - AmazonBUY SD SemiAutomatic Driver - Lowes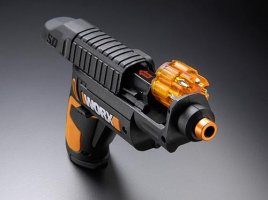 News
Chris   October 25, 2012  
0
1
Tired of having to fumble around with, and keep track of loose driver bits? Worx took the technology of two handgun types and came up with a way to make changing bits hassle free. It looks pretty cool too.
Manufacturer News
Chris   June 19, 2012  
0
4
The Worx JawSaw is one of those tools you see on the commercial and at first glance you dismiss it as being just another infomercial tool. Then you see the commercial again and start to realize it has possibilities. At third and forth viewing you begin to imagine how you would use the tool and how handy it would be to trim that overgrown tree in the backyard, you have now started to realize the potential of the tool. There is more to this than just being another tool on an infomercial. But maybe what you didn't realize, and...
7 results - showing 1 - 7