2 results - showing 1 - 2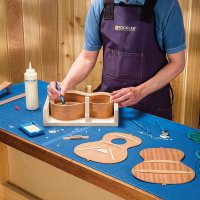 Tool Blog
Chris October 12, 2018
0
4
A number years ago I wrote an article asking why it was so hard to find a good workbench mat. In that article talked about the various solutions people had tried all in the search for a good workbench mat; they tried everything from conveyor belts to yoga mats, but by the end of the article I still hadn't found a suitable mat. Since then, Rockler has come out with a silicone mat that solves most problems a woodworker would face, but it was still lacking in some areas. Finally, I think I can stop the search, the new...
News
Chris August 01, 2011
0
1
You would think that with all of the workbenches in all of the garages all over the country, you would have a few different choices when it comes to workbench protection, but that is not the case at all.
2 results - showing 1 - 2