3 results - showing 1 - 3  
News
Chris   July 25, 2013  
1
1
I have always looked at the Festool MFT (Multi-Function Table) as great little work table, but not practical for jobsite use. I just never liked the idea of having to carry it around on the jobsite along with all of my other tools. But Timothy Wilmots' modified MFTC (Multi-Function Tool Cart) looks like an ideal way to transport both the MFT and your tools.
News
Chris   December 04, 2013  
1
1
Since many of us already use our toolboxes as make-shift worktables, Festool went ahead and built a miniature worktable right into the top of a SYS-1 sized Systainer. With it, you can be sure to always have a workbench to go along with the rest of your tools.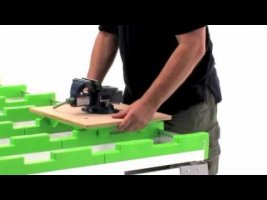 News
Chris   October 07, 2011  
1
0
Check out this new multifunction table that is sure to give the Festool MFT some competition. If size matters to you, take a look at the Benchmark Portable Work Table from Hagar Tools. The Benchmark is a foldable aluminum work table that is big enough to allow users to rip down full 4'x8' sheet goods.
3 results - showing 1 - 3