Manufacturer News
Chris June 08, 2012
1
0
The countdown has come to an end and the announcement we have all be waiting for has arrived and passed. Most of us had assumed Powermatic's Big new tool would be a table saw and some even guessed it would have flesh detecting technology, but it turns out Powermatic's new tool is actually an enormous lathe.
Cool Tools
Chris April 01, 2012
1
0
There have been huge safety changes to power tools over these last few years by manufacturers, fueled by consumer demands to cut down on harmful dust particles. Manufacturers are coming out with great new dust extraction advancements each year, but the hand tool category has remained completely untouched. But that has all changed with the introduction of the Veritas hand plane dust extraction shroud.
Cool Tools
Chris March 20, 2012
0
9
Love tools and love technology? Then how about mixing them together with one of these cool handmade iPad docks that is made out of repurposed tools. Put one of these docks in your workshop and it will fit right in; just don't accidentally reach for one of the tools and knock your tablet to the floor. Tears might soon follow.
Weekend Links
Chris March 16, 2012
1
0
Stock Your Shop With the Right Nails - Popular Woodworking With nails it is not just about selecting the right size, but nail shape is also very important. The fact is that really old nails hold better than new ones because square shaped nails provide more contact with the wood fibers. In this article Chris Schwarz talks about nail types and their application. 3D printer prints sand grain-size cathedral at record speed – MSN 3D printers are the tools of the future. They are becoming more affordable and the quality...
News
Chris October 14, 2011
0
0
Before there were loud but powerful electric routers, there were quiet and serene hand powered router planes. If you ever watch Roy Underhill on his woodworking show, you have seen how valuable these tools were, and still are. Sure powered routers can cut fast, but sometimes you just want the light touch that can come with hand powered tools. In an episode of Rough Cut, Tommy Mac demonstrated how the router plane easily cleaned up a dado cut with a router, without the need for any jigs or templates. Lee Valley has just introduced...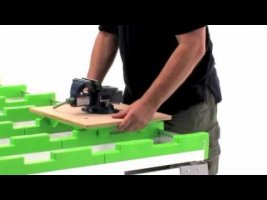 News
Chris October 07, 2011
1
0
Check out this new multifunction table that is sure to give the Festool MFT some competition. If size matters to you, take a look at the Benchmark Portable Work Table from Hagar Tools. The Benchmark is a foldable aluminum work table that is big enough to allow users to rip down full 4'x8' sheet goods.
Around The Web
Chris October 05, 2011
0
0
Contest Information
Contest Ends
November 30, 2011
One of the things I try to do every weekend, is to watch the woodworking shows that are on PBS. Some times I get caught up in another project and forget to tune in, or even worse, I tune in only to see that PBS is trying to make money and has pulled the show for the day, but I like to watch when I can. I am not much of a woodworker, so I watch mostly for entertainment value, but if I was more into woodworking, all those shop tools are darn expensive? ...
News
Chris September 15, 2011
0
0
I have been referring to router cookies as router pucks for a while now; as a hockey fan it was easy for me to make the obvious connection. I called them this because they do really look like hockey pucks, and I also wanted to stay away from using any trademarked names. Lee Valley also made the hockey connection, but being from Canada, they took the connection more literally then I did, and are now using actual hockey pucks for their router Bench Pucks. According to Lee Valley, they never wanted to get into...
News
Chris August 23, 2011
1
0
If you are a serious woodworker or even an avid amateur, you probably have some form of dust collection for your shop tools. We all know that dust in the lungs is a bad thing, especially if the dust is from manufactured or composite woods. Dust collectors are good at keeping dust levels down in the workplace, except for when you need to clean them out. Those filters get blocked up with so much loose dust that when you remove them, the dust goes everywhere. You almost need an extra dust collector running when clean out your dust collector....
News
Chris August 16, 2011
1
0
Did you know you can make round tenons on square stock by using a simple jig and a table saw with dado? FineHomebuilding.com has a video that shows us how simple the jig is, and how easy the whole process is as well. Check out the video and see for yourself. It looks like the most important step to getting accurate roundness, is to make sure that your square stock fits snugly into the hole on the two guiding blocks. The cool thing about the setup is that you can adjust the tenon depth in a matter...