Cool Tools
Chris   August 15, 2012  
1
0
When you are working with exotic woods it is not always easy to find matching dowel stock. You might be able to find something from a specialty store online, but if you are in a hurry, good luck finding it at your local store. The best way to find dowel stock to match your project is to make your own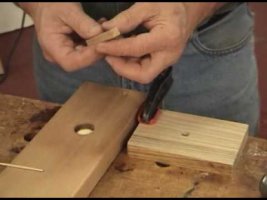 News
Chris   April 13, 2010  
1
0
Actually I am only telling you a half truth. The latest bits from Lee Valley will give you a square hole and does use a drill, but there is more to the story. This new tool is actually a fancy square hole punch that uses a drill bit to remove most of the wood material. For those of you wondering, yes, it functions almost exactly the same way as an electric mortise machine.
Tool Blog
Chris   April 18, 2017  
0
1
Rockler is taking some of the hassles out of adding a few drawers to your woodworking projects by getting some of the work out of the way for you. By offering drawer side stock in a variety of sizes, you no longer need to buy a full sheet of 1/2" plywood when you need to make a drawer or two.
Tool Blog
Chris   October 02, 2014  
2
2
In 2013 Nova first introduced their woodturning lathe Quick Change Chuck System, but in 2014 they made it better. NOVA is so confident you'll love the new and improved NOVA Infinity Quick Change Chuck System, they have backed with a 60-day money back guarantee.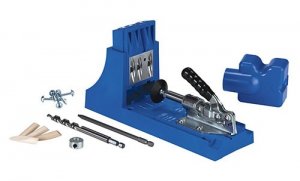 Hot Deals
Chris   July 14, 2014  
0
1
A pocket hole jig is without a doubt the easiest way to join two pieces of wood together, and Amazon has the Kreg Jig K4 Pocket Hole System on sale for just under $88. The kit normally sells for around $100. It doesn't go on sale very often, so if has been on your wish list, it might be time to buy. 
Videos
Chris   May 07, 2014  
1
0
If you loved the Etch-A-Sketch as a child and find yourself missing it as adult, then you will like what one guy built in his workshop. With only a few dollars worth of parts and a router, YouTube's Izzy Swan made the grown-up version of the classic child's toy. But instead of drawing with aluminum powder, his version carves into wood with a router. Like the classic Etch-A-Sketch, it takes great skills to draw something that actually looks like something—so I will not be making one of these.
Tool Blog
Chris   February 24, 2014  
0
1
Rockler Woodworking and Hardware has introduced T-track Stops, a new accessory that adds more versatility to the Rockler T-Track Table and other T-track setups. Their low-profile design allows them to hold materials in place while leaving the top surface available for sanding, surface planning, or any number of other woodworking tasks.
News
Chris   August 08, 2013  
0
1
Many home woodworkers dream of having a full-size cabinet saw in their garage converted workshop, but how many garages are wired to meet the 230V demand that most cabinet saws require? Enter the new Powermatic PM1000, a true cabinet-saw that requires only a standard 115V outlet.
News
Chris   August 07, 2013  
1
0
I spend quite a bit of time on the internet searching for new or interesting tools to share, but I can't find them all. Thankfully Tool-Rank has readers that also send in their finds. Yesterday a tipster sent in a link to a unique tool that turns your table saw into a lathe of sorts.
News
Chris   April 10, 2013  
0
2
If you are really into woodworking you might be willing to spend 3 days salary on a really good block plane, but most of us probably won't. We will spend enough to get an OK plane and complain about the cut quality later. LeeValley has a simple way to improve your plane, and that is to use one of their replacement plane blades.