6 results - showing 1 - 6  
Tool Blog
Chris   January 14, 2014  
0
2
As more people are concerned about dust levels on the jobsite or maybe just interested in keeping their customers' homes clean, Bosch has announced new 9-gallon (VAC090S and VAC090A) and 14-gallon (VAC140S and VAC140A) dust extractors with semi-automatic or automatic filter cleaning options. Each vac is also compatible with Bosch's Click & Go System, making it easy to keep your tools, accessories and vac together.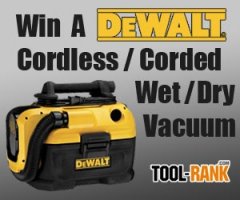 Tool-Rank
Chris   September 03, 2013  
0
1
Contest Information
Contest Ends
September 30, 2013
If you leave a mess at a job you might just end up getting yelled at; but fear not, for DeWALT has recently come out with a new wet/dry vacuum that is both corded and cordless and is small enough for you to take with you. Thanks to the fine folks at DeWALT, we have the aforementioned DCV581H Vacuum as the prize for this month's Tool-Rank giveaway.
Manufacturer News
Chris   March 15, 2013  
0
19
Literally, if you took all of the products Bosch Germany announced the other day and multiplied them by X, they would surly weigh a ton or more. There are so many tools I don't know where to start—how do tools that talk to your smart phone sound?
News
Chris   February 01, 2013  
4
1
Makita has been making a real effort to offer dust collection accessory options for many of their new tools, which is something I really like, but until now they have been without an actual dust extractor of their own. So what does Makita and their new Xtraxt Vac (VC4710) have to offer?
News
Chris   September 21, 2012  
0
1
One thing I really hate is jobsite dust, especially concrete dust. It gets all over the finished woodwork and always finds a way into my lungs. So the way to combat dust is to use a vacuum or a dust extractor. But we need one small enough to fit in the truck with the rest of the tools, and Bosch has one in the new 3931B-SPB 6.6-gallon Wet/Dry Vacuum.
News
Chris   January 26, 2012  
0
2
Dust collection systems, attachments and accessories always seem to be popular at the World of Concrete trade show. With concrete being the main ingredient of the show, there is bound to be a fair amount of concrete dust, so it is only obvious to showcase tools that help clean it up. Bosch has come out with a number of new DC products that are sure to be welcomed by the people that would normally have to work in a cloud of dust.
6 results - showing 1 - 6