12 results - showing 1 - 10

Weekend Links
Chris November 11, 2012
0
0
As you know, I am building a 72-hour kit using the Bosch Click & Go system. If you plan on building a kit of your own, these links might come in handy for you. The Ultimate Water Storage Guide and Water Storage Calculator - The Ready Store Having an ample supply of water is probably the most important part of a 72-hour kit, but calculating how much water you need can be challenging. This water calculator from The Ready Store takes into account the number of people, number of days, and a...

Weekend Links
Chris September 08, 2012
0
0
QUIZ: What Tool Are You? - BrightNest If you were a tool, what tool would you be? Take the quiz to find out. These types of quizzes are always a bit of fun, and something they are even accurate. iFixit Magnetic Project Mat Review – ToolGuyd If you do tool repairs and you are looking for a good way to keep those parts and screws organized, you probably want to check out TooGuyd's review of the iFitit magnetic mat. The magnets keep your screws from ending up on the shop...

Weekend Links
Chris July 14, 2012
0
0
New Bosch Workwear – Capris for workers? - Tools In Action Is it fun to laugh at the expense of others? It is when you see people who are supposed to be "construction workers" dancing around like they were on a reality TV show. They got our attention so I guess their plan worked, though maybe not the attention Bosch wanted because the video evidence has been removed from YouTube. Black & Decker is Working on a Modular Power Tool System? - ToolGuyd ToolGuyd seems to have some inside information...
Weekend Links
Chris June 16, 2012
1
0
RYOBI 18Volt ONE+ Portable Fan – ToolBoxBuzz Hate working in the heat? I do. Ryobi came up with a cordless fan to help you stay cool. It runs off of an 18-volt battery and can last up to 10 hours. Wow. Stackable Dewalt 12V Tool Case – ToolGuyd Mr ToolGuyd spotted a new stackable case that ToolStop in selling in the UK. It looks to be smaller than other stackable systems and features a clear lid. It's available in the UK, but ToolStop does ship to the US if you...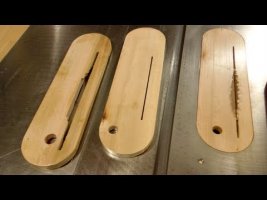 Weekend Links
Chris June 02, 2012
1
0
Dust Free Drilling with the Dust Bubble - Homefixated Need to drill a hole and leave no evidence behind? Check out this cool and weird product that will capture the dust into a bubble that you can then throw into the trash. A vacuum is probably more practical for a lot of drilling, but if you have a few holes, this bubble might save you. Load-N-Lock Lunch Bucket - ToolSkool When you go to work you need a manly lunch. The Load-N-Lock Lunch Bucket is big enough to hold your...

Weekend Links
Chris May 12, 2012
0
0
4LTX Shelf Bracket – Inventor's Corner - ToolSkool ToolSkool came across some cool little shelf/furniture brackets while at the National Hardware Show. The 4LTX brackets can turn 3/4-inch wood into shelving, furniture, bookcase, tables, and more in a matter of minutes. Mladen, the inventor is originally from Bosnia and is trying to live the American dream.
Weekend Links
Chris April 28, 2012
1
0
DeWALT 4.0Ah 20V MAX Batteries Spotted in the Wild – Tools In Action Are you hungry for more cordless tool runtime? A 4.0Ah battery was spotted on a store shelf the land from down under. Could this be a sign of things to come? Remember, some of the major brands just recently made the move from 2.8Ah up to 3.0Ah. Do they want to get into an Ah race where size is also factor? Google sells 3D modeling tool SketchUp to Trimble Navigation – The Verge SketchUp is a popular...
Weekend Links
Chris April 21, 2012
2
0
If Tool Users Talked Like Photographers – LensRentals If you have ever visited a photography forum you have probably figured out pretty quickly that you are doing everything all wrong and that everyone else knows more than you. What if tool forums were the same way? A funny post at LensRentals shows us what it would be like if the elite photographer attitude was present in tool forums (sadly it is to some extent). Pegboard Drawer Bottoms – Kreg (newsletter) Have you ever heard of pegboard drawer bottoms? The Kreg...

Weekend Links
Chris March 31, 2012
0
0
12V Recip Saw Showdown, Milwaukee v Bosch v DeWalt v Makita – Coptool Which ultra-compact reciprocating saw is best? Coptool puts the 12V recip saws from the major brands in a head to head battle. They test cutting speed, power, battery life, comfort and more. Check out the review to see who Coptool chooses as the winner. Custom Woodworker Takes on OSHA and Wins – Woodworking Network The big bad OSHA is out there and they just might find you and fine you, even if you did nothing wrong. How?...
Weekend Links
Chris March 23, 2012
1
0
Fastcap Square 'n' Tape – Eat Your Heart Out Swiss Army Knife - HomeFixated Chances are that if you are using a tape measure you probably are using a square as well. HomeFixated reviews a product that combines the two into one. Sound like it could be a time saver; though it probably wont fit in your tape measure pocket. The Original All-Terrain Table Saw - Tools Of The Trade Before manufacturers came out with table saws with built it wheeled stands, or even portable table saws, people that were...
12 results - showing 1 - 10