3 results - showing 1 - 3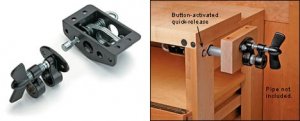 News
Chris May 22, 2012
0
0
Pipe clamp kits are a great way for people to make pipe clamps that they can customize to fit their own specific needs. The user just buys the size pipe they need, and they can put together a clamp in no time. Lee Valley has a new product that takes the same idea and applies it to a workbench vise.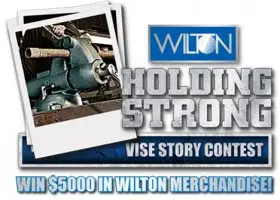 Around The Web
Chris May 03, 2012
0
0
Contest Information
Contest Ends
September 14, 2012
It doesn't matter if you do woodworking, metalwork, or DIY home repair, one tool that you need to have in your shop is a heavy-duty vise; and when we think vise we think of Wilton. If you have a Wilton vise story, Wilton wants to hear about it. Your story and vise photo could win you $5000; but even of you don't win, Wilton will still give you one of their c-clamps (value $84). Wilton has been around for 71 years now, and there is probably a pretty good chance that you have used one of...
News
Chris November 09, 2011
1
0
Many of the clamps that we own and use are designed to remain parallel during the clamping process. The parallel faces on these clamps are great in ensuring that whatever we are clamping remains secure and square; but what if we want to clamp something that is not square, maybe a round closet rod, or a tapered chair leg?
3 results - showing 1 - 3