12 results - showing 1 - 10  
Tool Blog
Chris   November 28, 2018  
0
2
Stuart over at ToolGuyd posted an article about a new dust cyclone attachment (199553-5) for Makita cordless vacuums that separates the dust before it has a chance to clog the dust filter. The nifty little accessory attaches inline between the extension "wand" and the handheld vacuum unit to act as the first stage of fine dust collection before the main bag. There is one problem though; the Makita Dust Cyclone is currently priced at $55 on Amazon, yet looks nearly identical to one that can be found on eBay for as little as $12.
Tool Blog
Chris   January 14, 2014  
0
2
As more people are concerned about dust levels on the jobsite or maybe just interested in keeping their customers' homes clean, Bosch has announced new 9-gallon (VAC090S and VAC090A) and 14-gallon (VAC140S and VAC140A) dust extractors with semi-automatic or automatic filter cleaning options. Each vac is also compatible with Bosch's Click & Go System, making it easy to keep your tools, accessories and vac together.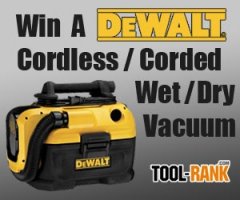 Tool-Rank
Chris   September 03, 2013  
0
1
Contest Information
Contest Ends
September 30, 2013
If you leave a mess at a job you might just end up getting yelled at; but fear not, for DeWALT has recently come out with a new wet/dry vacuum that is both corded and cordless and is small enough for you to take with you. Thanks to the fine folks at DeWALT, we have the aforementioned DCV581H Vacuum as the prize for this month's Tool-Rank giveaway.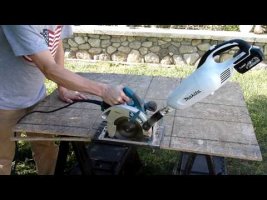 Tool Blog
Chris   April 29, 2013  
1
0
A year or two ago I was given a Makita BCL180ZW 18-volt cordless vacuum cleaner, which I normally use around the house for small clean-ups. The other day I glanced over at it and a thought popped into my head—"I wonder if that will fit onto my circular saw?" Only one way to find out.
News
Chris   February 01, 2013  
4
1
Makita has been making a real effort to offer dust collection accessory options for many of their new tools, which is something I really like, but until now they have been without an actual dust extractor of their own. So what does Makita and their new Xtraxt Vac (VC4710) have to offer?
News
Chris   September 21, 2012  
0
1
One thing I really hate is jobsite dust, especially concrete dust. It gets all over the finished woodwork and always finds a way into my lungs. So the way to combat dust is to use a vacuum or a dust extractor. But we need one small enough to fit in the truck with the rest of the tools, and Bosch has one in the new 3931B-SPB 6.6-gallon Wet/Dry Vacuum.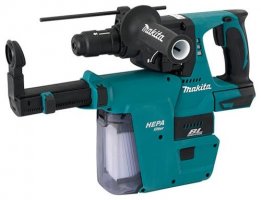 News
Chris   September 04, 2012  
0
4
Almost exactly 3 years ago Makita announced their first 36-volt cordless tool, and today we got word of a new 36-volt rotary hammer that I assume will take its place. There is also news of a new Makita 18-volt rotary hammer that is brushless and even has an on-board HEPA vac option.
News
Chris   January 26, 2012  
0
2
Dust collection systems, attachments and accessories always seem to be popular at the World of Concrete trade show. With concrete being the main ingredient of the show, there is bound to be a fair amount of concrete dust, so it is only obvious to showcase tools that help clean it up. Bosch has come out with a number of new DC products that are sure to be welcomed by the people that would normally have to work in a cloud of dust.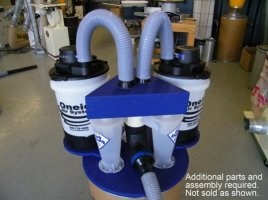 News
Chris   January 06, 2012  
0
2
Back in the late 90's you could not turn on the TV without seeing a commercial for a household vacuum that offered dual-cyclonic action. These commercials taught us that a vacuum with one cyclone was great, but one with dual cyclones is even better. The Dust Deputy videos have shown us how well their cyclone kits work on shop dust, so imagine what two more cyclones could do.
Manufacturer News
Chris   March 02, 2011  
0
0
Makita has announced some new 12-volt max tools, and pretty much completes an upgrade to their entire 12V line. Of course they could still always expand on their line, and that would be just fine with us. Some of the new tools we have seen already, such as the FD02W Drill/Driver and the SH01W Circular Saw that make up the LCT307 kit. The other new tools in the line seem to only have minor updates over the previous models. Power wise the specs appear to be the same as previous models, so it probably doesn't make...
12 results - showing 1 - 10