5 results - showing 1 - 5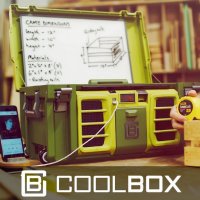 Tool Blog
Chris   March 17, 2015  
1
1
A toolbox holds your tools—but when you want it to do more, you might need to get yourself a Coolbox. The Coolbox is a new project up in Indiegogo that has already raised over $260,000 of their $50,000 goal. What makes the Coolbox so cool? It is packed full of technology to help make your tool using experience more enjoyable.
Tool Blog
Chris   December 15, 2014  
1
0
A while back Milwaukee sent out their 18-volt Jobsite Radio/Charger (2792-20) for me to try out, and I was more than happy to put it to the test. I could write an review telling you all about the Milwaukee jobsite radio and all of the cool features that Milwaukee included, but instead I decided to just show you, with a video.
Tool Blog
Chris   September 10, 2014  
0
2
Bosch has expanded their heated work wear line to include a new version of their PSJ120 heated jacket, this time for women. The new Bosch women's heated jacket has all the great features that can be found in the men's jacket, but it has a tailored-fit that is contoured to better match a woman's shape.
Tool Blog
Chris   August 12, 2013  
0
3
Just in time for the cold that comes along will fall, Bosch has announced that they too will be coming out with a 12V Max Heated Jacket (Model PSJ120). Additionally, this means that they are also offering a 12V USB portable power source that powers the jacket and other USB powered devices.
News
Chris   July 30, 2013  
0
6
DeWalt has just announced that they will be bringing a line of four heated jackets to the market this September. After the success of heated jackets from their competitor, they were sure to be getting requests from their users to offer a similar product. They would be fools not to deliver.
5 results - showing 1 - 5