2 results - showing 1 - 2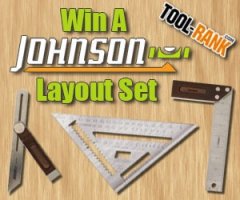 Tool-Rank
Chris   April 01, 2013  
0
1
Contest Information
Contest Ends
April 30, 2013
There is something common we all need when working on any type of project, and that is good layout and marking tools. But one tool is not good enough for every task. This month Tool-Rank has teamed up with Johnson Level to give away three of their newest layout squares so that you are ready to tackle your projects.
News
Chris   February 04, 2013  
0
4
A couple of years ago Johnson Level first introduced their bamboo levels. Bamboo is advantageous to use for a number of reasons including strength and sustainability, so is it any wonder that they have decided to introduce a line of T-Bevels and Try-Squares that use the fast growing grass?
2 results - showing 1 - 2