5 results - showing 1 - 5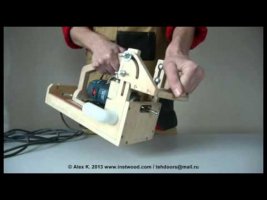 Cool Tools
Chris   March 28, 2013  
2
0
I think we can all pretty much agree that the Festool Domino mortiser is one cool machine. We might not all need one, but we can admire the engineering and the capabilities of the tool. So how much more impressed are we that a Russian carpenter made a similar functioning machine out of some basic shop tools.
News
Chris   October 08, 2012  
0
0
More than seven years ago Bosch released their Colt Palm Router; and who knew that all these years later it would be the router of choice by many tradesmen for light duty work. And while the Colt was good for light duty work, people always wanted more out if it. Now with the introduction of the PR011 Plunge Base, Bosch as given its tool all kinds of new possibilities.
Cool Tools
Chris   May 21, 2012  
2
0
I was going to take a lazy day today, because it is my birthday, and not post an article, but I came across these videos over the weekend of Matthias over at WoodGears building a cool new router copy contraption and thought I would share them. His latest machine accepts a small trim router and allows the user to use a follower to duplicate an object into wood. In his first example Matthias was able to copy a wrench and get some pretty good detail. If you want more information, be sure to watch...
Hot Deals
Chris   January 18, 2012  
0
1
Ridgid's Trim router is a pretty good deal at around 100 bucks and the user reviews seem to back it up, but what if you could get an even better deal? Well of course this is a Hot Deal article, so a better deal does in fact exist. Home Depot is currently selling the Ridgid Trim Router for only $99, but it also includes a FREE bonus Ridgid 1/4-sheet sander; the sander alone sells for just under $50. The reviews on the sander do not seem to be as good as the reviews on the router, buy hey, you...
News
Chris   August 05, 2011  
0
0
The trim router has always been a handy tool to have around the jobsite, and thanks to advancements in technology, these little guys have become more and more powerful over the years, at no cost to their compact size. Originally intended for only trimming laminate, these "Trim" routers are now powerful enough to handle many of the jobs of their bigger brother. Rockler has obviously seen that the new generation of trim routers are being underutilized, and have come out with a new trim router table to bump them up to their true potential....
5 results - showing 1 - 5