9 results - showing 1 - 9  
Cool Tools
Chris   November 20, 2008  
1
1
There has been a lot of buzz about Track Saws with both DeWalt, and Makita finally coming out with versions for the USA. But I bet many people don't know that you can turn just about any circular saw into a track saw for a fraction of the cost of a complete track saw package all with a kit from EurekaZone. After all, why should you have to buy another circular saw if you already own one, especially if it's a saw you really like? Who needs Festool when you can make a track saw with your own circular...
Tool Blog
Chris   February 21, 2019  
1
5
Finally, someone has made a Track Saw the right way, and by "right", I actually mean left. What I actually mean is that Kreg has come out with a new Track Saw System and they have gone against the norm by using a blade-left design—something I have been complaining about for years. The new Kreg Track Saw is more than just the saw though;  the saw is only part of the Kreg Adaptive Cutting System, designed to replace a table saw and even a miter saw for certain tasks.
Tool Blog
Chris   February 21, 2018  
2
1
When it comes to breaking down sheet goods, track saws are a great lower priced alternative to tablesaws, but a good portion of the cost of a track saw is in the track itself. Worx has found a way to lower the cost of their new WX530L ExacTrack Cordless track saw by allowing it to use any straightedge up to 1-inch thick as its "track".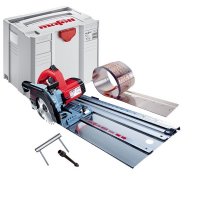 Tool Blog
Chris   August 17, 2016  
0
1
Top of the line—Made in Germany—Mafell tools are now available for sale at Toolnut, which I believe is only the second store to sell the brand in the US. If you thought Festool was expensive, you don't want to know how much Mafell tools cost; or maybe you do, when you see how cool some of them are.
Tool Blog
Chris   November 25, 2013  
1
1
When you need to make long straight cuts on the jobsite one of the best ways to do it is with a track saw (or plunge saw), but transporting and using long tracks on the jobsite is not always easy. So wouldn't it be great if you could roll up your track and store it in your tool case? While this does sound impossible, a company called Mafell makes a track saw system that does just that.
News
Chris   June 14, 2013  
0
1
Freud has announced that they have come out with a new line of saw blades that they have specifically designed for use on Festool track saws. The new series is also the first and only anti-vibration designed saw blade for a Festool saw.
News
Chris   April 15, 2013  
1
0
People are always looking for ways to save money on tools, and one way is to cut down on the tools you need to own. So why buy a regular circular saw and a track saw, when you can use your circular saw as a track saw with the TrueTrac system?
News
Chris   June 01, 2011  
0
0
I wondered how long it would be until Bosch came out with a track saw of their very own, and now I know. It turns out that Bosch Germany will be releasing two track saws in a matter of just a couple of months. Good news for other track saw owners is that they will use a track and saw configuration that is compatible with Festool, Makita, and other tracks and saws on the market. The saws are going up against some pretty big competition with Festool, but according to the specs, Bosch has...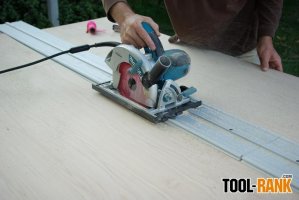 Reviews
Chris   January 20, 2010  
0
1
Oscillation tools seemed to top the list amongst DIYers this past year, but for many professionals, the step up to track saws was high on their list. Why track saws? Because they offer table saw quality and accuracy in a much smaller more portable tool. They also have the added benefit of being much safer to operate. Today I will be going over my experiences using the Eurekazone track saw system. Eurekazone sent over the EZ Smart Guide SGS-114" kit, which includes: (1) 64" rail, (1) 50" rail, (3) rail connectors, (1) Smart Base, (2) Smart Clamps, (2) AC-1...
9 results - showing 1 - 9