3 results - showing 1 - 3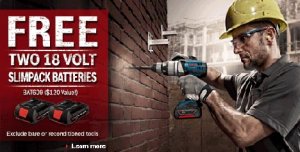 Hot Deals
Chris April 18, 2012
0
0
Now appears to be the best time to purchase a Bosch 18V cordless tool. Bosch has come out with a new promotion where you can get Two FREE SlimPack (BAT609) batteries if you purchase a new Bosch 18V Lithium-ion tool or the PowerBox 360 radio. The offer excludes bare tools and reconditioned tool purchases. This promotion runs from April 15 to June 16 2012. Free Battery Details Amazon is still running the promotion I posted a few days ago. Select Bosch 18V and 12V tools purchased from Amazon come with bonus free...
Hot Deals
Chris October 12, 2011
0
0
As kids we all loved to go to Toys R Us to walk the seemingly endless number of toy filled isles. As adults, Tools R Us offers us the same kind of euphoria we experienced as children, only this time with More Power. Tools R Us has a huge selection of power tools from all of the major brands, and for those of you brand loyal shoppers, you will find that Tools R Us is divided into sections based on brands. If you like yellow tools, it is pretty easy to spot the section of the...
Hot Deals
Chris August 22, 2011
0
0
I always like to promote my local tools store's tools sales, and this time it is all about Bosch. Tools R Us is offering huge sale prices on most of Bosch's popular tools, and even some of the newest Bosch tools. Check out the images below to see what is being offered.  If you are in the area of Montclair California any time this week and you like tools, you probably want to check it out. Warning - Large Image Links
3 results - showing 1 - 3