19 results - showing 11 - 19
News
Chris March 27, 2012
1
0
Veto Pro Pac bags have been pretty popular among HVAC technicians, and now it looks like they will have a brand new line of Veto bags that have been specifically designed to meet their needs. The Tech bags have been designed based on user feedback, surveys, and field testing. The difference in the bags is due to the specific hand tools and diagnostic tools that HVAC and other technicians require.
News
Chris January 25, 2012
1
0
Rolling tool boxes are becoming more and more popular on the jobsite. Workers often have to pick up from one location and move to another, and having wheels makes the process that much quicker and easier. Stanley makes a rolling tool chest that is commonly found on the jobsites and is one that I use, but the features on the Keter Master Pro Sliding Tool Chest have me thinking I need a change.
News
Chris November 08, 2011
0
3
I have always found that if your tools are easy to see, and each tool has its own place, then it is easier to spot a missing tool or one that is out of place. Not only does a system like this keep you better organized, but it many cases, it is more productive. Old sayings like "A place for everything and everything in its place" really do work.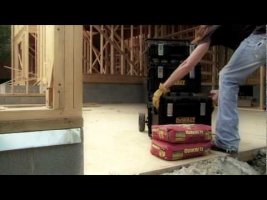 Editorial
Chris October 04, 2011
1
0
Where oh where could it be? The DeWalt ToughSystem was one of the products that really caught my eye back when DeWalt made their big product announcement in June. The system might not have anything new in terms of stackability compared to the Festool Systainers, or the Sortimo L-Boxx, but they had other features that, in my opinion, really put the ToughSystem boxes up a level. The other brands, as well as the DW ToughSystem, feature a lock-together stacking feature, but DeWalt was the first to engineer a transport system that did more then just carry boxes....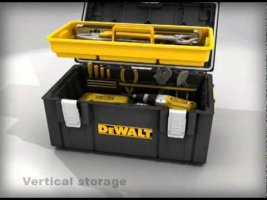 News
Chris June 06, 2011
1
0
I have been battling with the idea of purchasing a few Systainers so that I can use them with a hand truck to get my tools on and off the jobsite easier for a few years now, but the pricing always kept me away. Then out came the L-Boxx from Sortimo, and it popped into my mind as a possible solution. The L-Boxx then became the front runner when Bosch made them more readily available here in the States. However, now it looks like DeWalt's Tough System is the ideal storage/transport system for my needs. The Tough...
News
Chris April 07, 2011
0
0
When Black & Decker merged with Stanley we knew there would be some changes, but we had no idea Stanley, which is known for their hand tools, would be all but replaced by first Bostitch, and now DeWalt. But in fact the news is true; the DeWalt name will soon be found on a number of hand tools. DeWalt and hand tools just seems odd to me, but I am sure B&D has a plan. I guess it would help DeWalt if their yellow tools out numbered the other tools in one's tool bag; after all,...

News
Chris December 21, 2010
0
0
If you are a fan of the Systainer stackable storage system, you will probably be happy to know that Tanos has given the Systainer a much needed update. The new T-Loc Systainer not only ditches the old bland look for something much more stylish, but the hardware sees a huge change with a completely re-engineered latch system. What once required 4 latches to mount one box to another, now only requires one. The T-Loc makes use of two hooks to keep the back of the boxes together, and a single locking knob to latch the front....
News
Chris November 11, 2010
0
0
If you thought the tool bags from Veto were cool, you will probably love the new Dr. Wood bag from Occidental Leather. If you don't like the price of the Veto bags, you will absolutely hate the price of the Dr. Wood, at over $450. But lets take a look at the Dr. Wood, maybe its worth is hiding inside. First off, like all Occidental Leather bags, it is made in the USA. So if the other high end bags are priced in the $200 range and are made in China, the price for...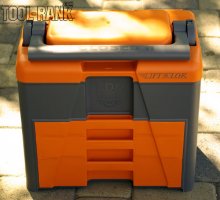 Reviews
Chris September 09, 2008
0
0
ManufacturerPDY Systems Supplied byPDY Systems Price $59.95 Buy [:cicn:] Amazon Introduction Today we are taking a look at the Lift-n-Lok tool organizer by PDY systems. If you go into any store looking for any toolbox, craft box, tackle box, or whatever box, you will notice one thing in common. They have some type of exterior latch or catch that is used to keep them secure. This is where the Lift-n-Lok goes beyond the norm, and sets a new paradigm. It features...
19 results - showing 11 - 19