19 results - showing 1 - 10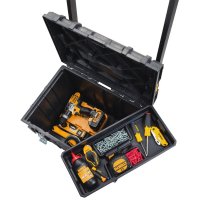 Tool Blog
Chris   December 06, 2016  
1
8
The DeWalt ToughSystem is by far the best solution I have come across to store and transport my tool to and from the jobsite, so I get excited when I hear about any new products in the ToughSystem line. In addition to a couple of new ToughSystem storage boxes, DeWalt finally has a solution to storing their boxes in a workshop.
Tool Blog
Chris   April 28, 2015  
0
4
Milwaukee is continuing to expand their new line of jobsite storage solutions with the introduction of a new transparent-lid Jobsite Organizer 48-22-8030. While it may look like other jobsite organizers on the market today, Milwaukee says theirs has been "meticulously designed" for "increased productivity", and provides 20% more capacity than the competition.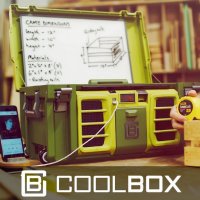 Tool Blog
Chris   March 17, 2015  
1
1
A toolbox holds your tools—but when you want it to do more, you might need to get yourself a Coolbox. The Coolbox is a new project up in Indiegogo that has already raised over $260,000 of their $50,000 goal. What makes the Coolbox so cool? It is packed full of technology to help make your tool using experience more enjoyable.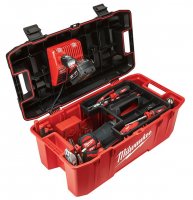 Tool Blog
Chris   May 05, 2014  
0
5
Many brands claim to make tool boxes that are tough enough to handle jobsite abuse, but how many of them can survive 1000 drops with a 50lb. load? Probably not many, but Milwaukee says their new 26" Jobsite Work Box 48-22-8020 can.
Tool Blog
Chris   March 06, 2014  
0
1
Keter is the maker of those popular cantilever organizers and toolboxes that you for sale at the Home Depot, or as part of a Kreg Jig kit. Keter offers them in a few different sizes and configurations, but up until now they have all been 2-tiered models. Well that has all changed.
News
Chris   December 04, 2013  
1
1
Since many of us already use our toolboxes as make-shift worktables, Festool went ahead and built a miniature worktable right into the top of a SYS-1 sized Systainer. With it, you can be sure to always have a workbench to go along with the rest of your tools.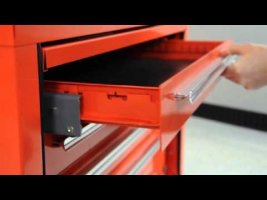 News
Chris   June 12, 2013  
1
0
Proto just came out with a new tool chest that allows professionals to organize and store their tools on the jobsite. Their 34-inch Service Road Box might look like your typical garage tool chest at first glance, but unlike your average tool chest, it is strong enough to handle serious jobsite abuse.
Tool Blog
Chris   May 15, 2013  
0
1
So, you have a bunch of tools you want to organize using Bosch's Click & Go L-BOXX system but you are not sure what you need. Bosch has a new online configuration tool that might help you out.
News
Chris   March 20, 2013  
0
1
Sometimes it can be a hassle to always have to lift the top to get the things you need out of your Systainer. To make your tools a bit easier to get to, Festool has announced the addition of a new Systainer that has no top.
Reviews
Chris   April 02, 2012  
0
20
I think I have said this before, but when I saw the DeWalt ToughSystem and the features it offered, it was love at first sight. I was already in the market for a modular type storage system/tool box and had been scoping the offerings from the other brands, but the ToughSystem had a complete solution that best suited my needs.
19 results - showing 1 - 10