10 results - showing 1 - 10  
Tool Blog
Chris   February 10, 2014  
0
4
Veto Pro Pac is launching a new line of rugged totes that feature the same high build quality that we have come to expect from the company. Like their Contractors Series of tool bags, the Cargo Totes are made with Veto's signature 3mm thick polypropylene water proof base, and 1800 denier fabric for the body. Continuing up to the handles, Veto chose to go with leather grips, which are both durable and comfortable.
News
Chris   March 29, 2013  
0
1
Klein Tools announced some new additions to their Tradesman Pro line of tool organizers that have been designed to meet the needs of professionals. While Klein Tools are typically marketed towards electrical contractors, anyone can benefit from their organizers.
News
Chris   January 29, 2013  
0
1
While Veto Pro Pac has been making mostly messenger style bags since they first started, at the AHR (Air Conditioning, Heating, Refrigeration) Expo they announced that their first backpack style tool bag will be arriving this summer. Veto is not only a leader in tool bags, but they are also the brand that everyone dreams of owning, so I have a feeling their new backpack will be well accepted.
News
Chris   September 18, 2012  
1
0
What makes an efficient carpenter is having the right tool for the job close at hand. Unfortunately this means that you probably have one of every tool. To keep your tool collection organized and quickly within reach, Occidental Leather has come out with the 5588 Stronghold Master Carpenter Case.
News
Chris   March 27, 2012  
1
0
Veto Pro Pac bags have been pretty popular among HVAC technicians, and now it looks like they will have a brand new line of Veto bags that have been specifically designed to meet their needs. The Tech bags have been designed based on user feedback, surveys, and field testing. The difference in the bags is due to the specific hand tools and diagnostic tools that HVAC and other technicians require.
News
Chris   November 03, 2011  
0
0
It was a couple of years ago when I first wrote about the Veto Laptop bag, but somewhere down the road the bag was discontinued. Now Veto is back with two new versions of the laptop bag, and it looks like they made a few changes. From the outside, the bags look nearly identical to the regular Veto bags with slight changes to the handle and a now non-hook&loop shoulder strap that now uses a clip to stay in place. The Model LT bag is the smaller of the two and is pure laptop...
News
Chris   September 21, 2011  
0
0
What is a good way to make sure we write about your product? Well, sending out a fully functional tool belt made out of Gorilla Glue brand Gorilla Tape sure helps. To be honest, I am a huge fan of Gorilla wood glue and choose it over other brands whenever I can. I like the fact that it is a little thicker and does not run, and it holds strong as would be expected. That being said, I have not used most of the other Gorilla Glue products, such as their epoxies or or tapes. Making...
News
Chris   April 22, 2011  
1
0
We have shown you the Veto Pro Pac (review) tool bag and we have shown you the Occidental Leather Dr. Wood tool bag; but how do these two kings of tools bags compare to each other? Gary Katz has a video that shows us what you get when you spend over $450 on the Dr. Wood tool bag. For one, you get a bag that is even heavier then the 9lb (when empty) Veto Pro Pac XL. If you can afford the $450 bag, you should also make sure you can afford an apprentice to carry it for you....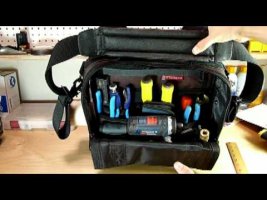 Reviews
Chris   March 28, 2011  
1
0
Tool organization is not one of my strong suits, so when Veto Pro Pac said they wanted to send me one of their tools bags to review, I happily accepted. What they sent out was their LC bag, the smallest of their closed top bags. You might be unfamiliar with Veto Pro Pac because they are not something you will find in your local bigbox store, but they have become popular amongst contractors because of their design functionality, and high quality build. I think the problem with most tool bags is they...
News
Chris   November 11, 2010  
0
0
If you thought the tool bags from Veto were cool, you will probably love the new Dr. Wood bag from Occidental Leather. If you don't like the price of the Veto bags, you will absolutely hate the price of the Dr. Wood, at over $450. But lets take a look at the Dr. Wood, maybe its worth is hiding inside. First off, like all Occidental Leather bags, it is made in the USA. So if the other high end bags are priced in the $200 range and are made in China, the price for...
10 results - showing 1 - 10