19 results - showing 1 - 10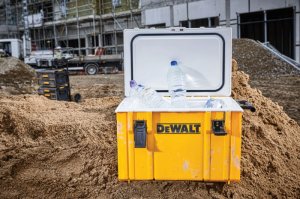 Tool Blog
Chris   June 29, 2018  
0
1
As I have mentioned numerous times in the past, I am a big fan of the modular DeWalt ToughSystem (be sure to read my review). It is what I use to organize and transport my tools to and from the jobsite. Even though I have my system configured just how I want it, I am always excited to see what new additions DeWalt makes to the modular system.  However, their latest additions are not really what I expected, a ToughSystem Ice-Cooler (DWST08404) and the new ToughSystem Waterseal Drawers (DWST08290).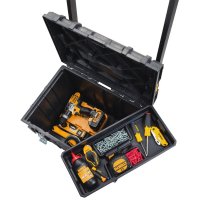 Tool Blog
Chris   December 06, 2016  
1
8
The DeWalt ToughSystem is by far the best solution I have come across to store and transport my tool to and from the jobsite, so I get excited when I hear about any new products in the ToughSystem line. In addition to a couple of new ToughSystem storage boxes, DeWalt finally has a solution to storing their boxes in a workshop.
Tool Blog
Chris   September 03, 2014  
1
0
Veto Pro Pac has expanded their line of tool bags quite a bit over the last few years by moving into tech bags, pouches, and laptop bags. With their new Model MC tool bag they are taking a step back to their initial contractor series design, but have gone smaller.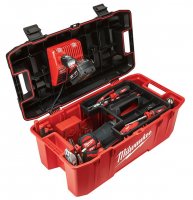 Tool Blog
Chris   May 05, 2014  
0
5
Many brands claim to make tool boxes that are tough enough to handle jobsite abuse, but how many of them can survive 1000 drops with a 50lb. load? Probably not many, but Milwaukee says their new 26" Jobsite Work Box 48-22-8020 can.
Tool Blog
Chris   October 23, 2013  
1
1
Klein has launched a new line of storage and laptop bags for professional tradesmen and technicians. In addition to a backpack and a shoulder bag capable of holding a laptop or tablet, they have also introduced a trio of meter carrying cases and a pair of smartphone cases.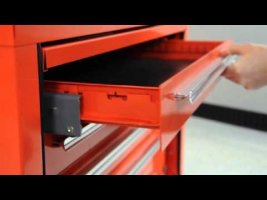 News
Chris   June 12, 2013  
1
0
Proto just came out with a new tool chest that allows professionals to organize and store their tools on the jobsite. Their 34-inch Service Road Box might look like your typical garage tool chest at first glance, but unlike your average tool chest, it is strong enough to handle serious jobsite abuse.
Tool Blog
Chris   May 15, 2013  
0
1
So, you have a bunch of tools you want to organize using Bosch's Click & Go L-BOXX system but you are not sure what you need. Bosch has a new online configuration tool that might help you out.
News
Chris   March 29, 2013  
0
1
Klein Tools announced some new additions to their Tradesman Pro line of tool organizers that have been designed to meet the needs of professionals. While Klein Tools are typically marketed towards electrical contractors, anyone can benefit from their organizers.
News
Chris   August 17, 2012  
0
0
I really like to write about products that can help you be more organized, and this has a lot to do with how unorganized I can be. I know I am not the only one out there that has a row of long handled tools leaning up against the garage. Racor has come out with a new tool hook that they say is better and safer than the traditional tool hook.
News
Chris   August 07, 2012  
0
0
When you are working with a lot of different tools on your workbench, it can become crowded pretty easily leaving little room for your actual project. Rockler has come up with a solution as simple as a tool tray that mounts under your workbench.
19 results - showing 1 - 10