6 results - showing 1 - 6
Tool Blog
Chris December 09, 2014
1
1
Doing complex layouts and measuring on walls or ceilings can be a real pain, especially since you have gravity working against you every step of the way. Measure-It is like tape that fights against gravity thanks to its adhesive back, and you can use it just like a measurer thanks to its markings on the front. I guess you could call it a tape measure.
Reviews
Chris July 25, 2014
0
11
A few months ago I wrote about a new product that promises to be "The Ultimate Measuring Tape Assistant". At the time I really liked the idea behind the product—a better hook for your tape measure—but I questioned how accurate it could be. Tape-Ease offered to send me a couple so I could test them out for myself, and I was happy to take them up on their offer.
Tool Blog
Chris April 10, 2014
1
1
Tape-Ease is a new product that wants to eliminate the problem of your tape measure coming unhooked when you are trying to measure the lengths of jobsite materials. It is a rubber grip that slips onto your existing tape measure and gives it more hooking power.
News
Chris March 08, 2013
0
1
Stanley Tools is celebrating the 50th anniversary of what is probably the most popular tape measure in the US, the Stanley PowerLock. To commemorate the anniversary, Stanley will be releasing a series of five limited edition tape measurers.
News
Chris April 07, 2011
0
0
When Black & Decker merged with Stanley we knew there would be some changes, but we had no idea Stanley, which is known for their hand tools, would be all but replaced by first Bostitch, and now DeWalt. But in fact the news is true; the DeWalt name will soon be found on a number of hand tools. DeWalt and hand tools just seems odd to me, but I am sure B&D has a plan. I guess it would help DeWalt if their yellow tools out numbered the other tools in one's tool bag; after all,...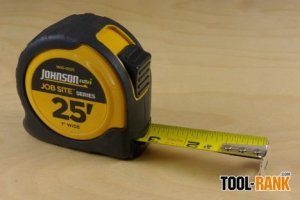 Reviews
Chris March 22, 2011
0
0
The simplest tools are often the hardest to review. How much different can any two tape measures be? They are all basically as simple as a thin piece of metal with lines and numbers. So simple, yet, I have the hardest time finding one that I like. I have used tape measures from all of the major brands and have a good understanding of what I like and need, but none of them on the market fit the bill. Design is what makes or brakes a tape measure. It spends a lot of time in our...
6 results - showing 1 - 6