News
Chris   August 16, 2011  
1
0
Did you know you can make round tenons on square stock by using a simple jig and a table saw with dado? FineHomebuilding.com has a video that shows us how simple the jig is, and how easy the whole process is as well. Check out the video and see for yourself. It looks like the most important step to getting accurate roundness, is to make sure that your square stock fits snugly into the hole on the two guiding blocks. The cool thing about the setup is that you can adjust the tenon depth in a matter...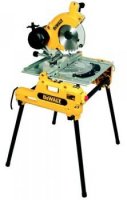 News
Chris   August 10, 2011  
1
1
We have seen a couple of combination miter/table saws now enjoying freedom in the U.K., one from Bosch with a table mounted on top of a miter saw, and one from Makita that flips to transform. Now it is DeWalt's turn to join in on the fun with their very own flipping combination transformation miter/table saw.
News
Chris   March 14, 2011  
1
0
I was perusing the Bosch website the other day and came across a new table saw, the GTS1031 compact 10" worksite table saw. The GTS1031 is much different than your typical portable jobsite table saws and was specifically designed to be more compact, light weight, and portable. Many people simply do not need the full ripping capacity that a typical jobsite saw offers, and the 18-inch capacity that the GTS1031 offers is more than enough. The GTS1031 weighs in at 52lbs, which is 8 lbs less than their full sized jobsite saw, but is not as...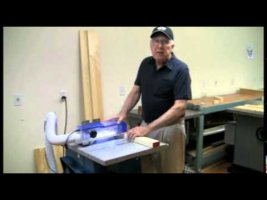 News
Chris   February 06, 2011  
1
0
ProTool Reviews and The WoodWhisperer both have some great articles about SawStop, a new rival flesh detecting table saw safety system, and what the Consumer Product Safety Commission can do to help lesson table saw injuries. It turns out that SawStop as a brand was not the first choice for Stephen Gass, the inventor of the table saw braking system. He originally went directly to table saw manufacturers to try and get them to license his SawStop system from them; but his licensing efforts failed. The SawStop technology was too expensive, heavy, and ruined saws blades after...
News
Chris   January 27, 2011  
0
0
We have miter saws with lasers, drills with lasers, and even hand saws with lasers, but up until now I have never seen a table saw with a laser. Rockwell has finally given us the laser line table saw you never knew you needed. The laser is designed to make it easier to see exactly where the saw blade will meet the wood, and should really come in handy for getting accurately sized miter cuts. The laser grabs our attention, but there is more to the saw. This is the first jobsite table saw...