News
Chris   August 08, 2013  
0
1
Many home woodworkers dream of having a full-size cabinet saw in their garage converted workshop, but how many garages are wired to meet the 230V demand that most cabinet saws require? Enter the new Powermatic PM1000, a true cabinet-saw that requires only a standard 115V outlet.
News
Chris   August 07, 2013  
1
0
I spend quite a bit of time on the internet searching for new or interesting tools to share, but I can't find them all. Thankfully Tool-Rank has readers that also send in their finds. Yesterday a tipster sent in a link to a unique tool that turns your table saw into a lathe of sorts.
News
Chris   September 13, 2012  
1
1
I came across an interesting tool called a Push-Pull saw that is available in Europe by Bosch. It is unique in that it is almost like a cross between a table saw and a radial-arm saw. I know those tools sound like an impossible match, but Bosch managed to bring the two tools together.
News
Chris   September 07, 2012  
0
0
It is usually a sad day when something dies, but today we rejoice at the fact that the purposed table saw safety mandate, here in California, has died. One battle down, but we are still in a war.
News
Chris   July 20, 2012  
0
1
If you have done any reading on the purposed Saw Stop mandate, you have probably noticed that most of the article writers are against it. It is not that we are against safety, we just don't like being told what to do, let alone by politicians that have probably never even used a table saw. And since we have the inventor of the Saw Stop to blame for these new safety regulations, I would be perfectly happy to see the manufacturers find a way to not use his patents. A Black & Decker patent filing indeed shows that at...
Hot Deals
Chris   March 14, 2012  
0
1
The first time I saw super small DeWalt DW745 table saw on the jobsite was the same day I was getting the Tool-Rank logo made up. I remember talking with the logo designer over the phone while watching a carpenter walk onto the jobsite with the saw in one had. That was a long time ago, but the DW745 table saw is still a hit among carpenters. I came across this deal that Lowe's is currently offering. They have the DW745 on clearance for only $319. Amazon pricing is currently just above $350. You can reserve...
News
Chris   February 20, 2012  
0
0
The other day The Colbert Report did a segment about the growing of the nanny state and people who are destroying America. His target in the episode was SawStop and the inventor Steve Gass, "Who's do gooding dun gone do bad", as Colbert puts it. Should people have the right to by cheaper tools knowing that they may get injured if they use the tool incorrectly, or should we be forced to purchase a more expensive saw on the chance that we might make contact with the blade? Do we want a country that believes in freedom of choice,...
News
Chris   December 06, 2011  
0
0
We have discussed in the past how SawStop is pushing to have its blade stopping system become mandatory on all future table saws. Then we learned that the Consumer Product Safety Commission voted to move towards tougher table saw safety standards. Now it is our time to let them know how we feel. You know, the opinions of actual table saw users.
News
Chris   November 21, 2011  
0
0
There have been a few small portable table saws on the market over the years, but DeWALT started a whole new table saw class with their DW745 Compact Table Saw. Following shortly after DW, with a saw of their very own, Ridgid came out with the R4516 Compact Table Saw, though it's life was short lived. But now after a few years, it looks like the time for the Ridgid R4516 has come again.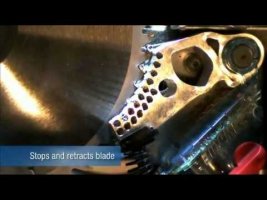 News
Chris   October 06, 2011  
2
0
The Wall Street Journal is reporting that the Consumer Product Safety Commission voted on Wednesday to move toward tougher safety standards for table saws. This comes as bad news for the Power Tool Institute and its members who believe the safety standards they adopted in 2007 are adequate when used properly; many of us actual tool users would agree. The problem is, the CPSC has been lobbied pretty heavily by inventor Stephen Gass, who wants every table saw in the US to use his safety invention which can stop a table saw blade as...