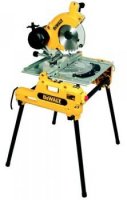 News
Chris   August 10, 2011  
1
1
We have seen a couple of combination miter/table saws now enjoying freedom in the U.K., one from Bosch with a table mounted on top of a miter saw, and one from Makita that flips to transform. Now it is DeWalt's turn to join in on the fun with their very own flipping combination transformation miter/table saw.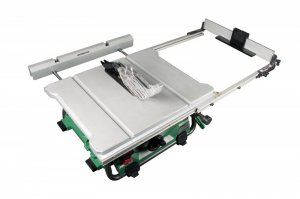 Tool Blog
Chris   May 21, 2019  
1
4
Metabo HPT is expanding on their MultiVolt cordless/corded tool line with the introduction of a 10-inch Portable Jobsite Table Saw. Metabo HPT  MultiVolt Tools like the new C3610DRJQ4 Table Saw can accept a 36V MultiVolt Battery or plug into a standard 120V outlets using their AC adapter.
Tool Blog
Chris   June 01, 2018  
1
1
We all know the typical rip-fence setup routine for a table saw. First, you unlock the fence, then you measure and position it, then you tap it a few times in both directions, then you lock it in place when you think you have it right—but you don't really have it right. The fence has inevitably moved while you were locking it into position. Now you get to do the whole process over again. Or, you could use a new product launched on Kickstarter called Rip-it, that offers a more automated solution.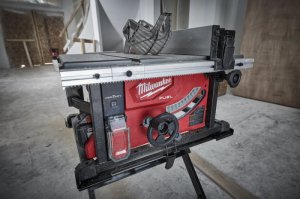 Tool Blog
Chris   May 08, 2018  
0
3
Milwaukee has announced their version of the cordless jobsite tables saw, what's shocking though, is that it runs off of only a single M18 battery. While this sounds like this would cause the saw to be underpowered, they claim their new M18 Fuel 8-1/4" Table Saw "generates the power of a 15amp corded saw".
Tool Blog
Chris   March 23, 2017  
0
1
On January 27, 2017, the International Trade Commission instituted a ban prohibiting the import of Reaxx table saws into the U.S. Despite what you may have heard regarding the availability of the Bosch Reaxx Table Saw, you are still able to purchase one; at least for a limited time.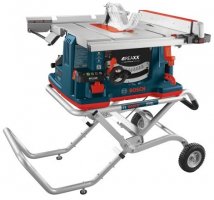 Tool Blog
Chris   September 14, 2016  
0
1
In a rare move—which even they admit—Bosch has decided to release a statement to clear up misleading information concerning the Bosch REAXX Jobsite Table Saw and the ongoing lawsuit. They don't specify what the misleading information is, but I bet journalists that are uneducated in law, who try to interpret legal documents and proceeding, are to blame. You can read the official Bosch Statement below.
Tool Blog
Chris   June 30, 2016  
0
7
DeWalt has come out with a revolutionary new FlexVolt battery that can automatically change its voltage from 20V to 60V to match the voltage required by the tool. Two FlexVolt batteries can also be combined to deliver 120V Max to tools that require even more power. Best of all, the new DeWalt FlexVolt battery pack is backward compatible with existing DeWalt 20V Max cordless tools.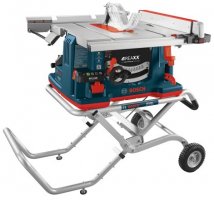 Tool Blog
Chris   April 06, 2016  
1
1
The wait is finally over, after months of delay due to some legal blocking from SawStop, the originator of the flesh-detecting table saw, Bosch has officially announced the release date of the GTS1041A REAXX Tablesaw to be June 1st, 2016.
Tool Blog
Chris   March 18, 2015  
1
2
Bosch has announced that their new GTS1041A REAXX Portable Jobsite Table Saw will be their first saw to use their proprietary flesh-detecting Active Response Technology to help reduce table saw blade injury. The system on the Bosch REAXX Table Saw can detect when human flesh comes into contact with the saw blade, and in response will drop the blade under the tabletop to reduce injury.
Tool Blog
Chris   December 03, 2014  
0
1
SawStop has announced that they will finally be coming out with a portable Jobsite Table Saw. While it would have been easy for them to simply make a smaller, lighter, table saw featuring their finger-saving technology, they actually added some innovative new features. Unfortunately, the Jobsite SawStop is still priced well above what most people can afford.