Tool Blog
Chris March 23, 2017
0
1
On January 27, 2017, the International Trade Commission instituted a ban prohibiting the import of Reaxx table saws into the U.S. Despite what you may have heard regarding the availability of the Bosch Reaxx Table Saw, you are still able to purchase one; at least for a limited time.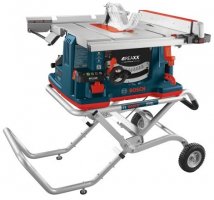 Tool Blog
Chris September 14, 2016
0
1
In a rare move—which even they admit—Bosch has decided to release a statement to clear up misleading information concerning the Bosch REAXX Jobsite Table Saw and the ongoing lawsuit. They don't specify what the misleading information is, but I bet journalists that are uneducated in law, who try to interpret legal documents and proceeding, are to blame. You can read the official Bosch Statement below.
Tool Blog
Chris June 30, 2016
0
7
DeWalt has come out with a revolutionary new FlexVolt battery that can automatically change its voltage from 20V to 60V to match the voltage required by the tool. Two FlexVolt batteries can also be combined to deliver 120V Max to tools that require even more power. Best of all, the new DeWalt FlexVolt battery pack is backward compatible with existing DeWalt 20V Max cordless tools.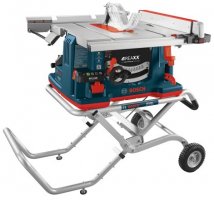 Tool Blog
Chris April 06, 2016
1
1
The wait is finally over, after months of delay due to some legal blocking from SawStop, the originator of the flesh-detecting table saw, Bosch has officially announced the release date of the GTS1041A REAXX Tablesaw to be June 1st, 2016.
Tool Blog
Chris March 18, 2015
1
2
Bosch has announced that their new GTS1041A REAXX Portable Jobsite Table Saw will be their first saw to use their proprietary flesh-detecting Active Response Technology to help reduce table saw blade injury. The system on the Bosch REAXX Table Saw can detect when human flesh comes into contact with the saw blade, and in response will drop the blade under the tabletop to reduce injury.
Tool Blog
Chris December 03, 2014
0
1
SawStop has announced that they will finally be coming out with a portable Jobsite Table Saw. While it would have been easy for them to simply make a smaller, lighter, table saw featuring their finger-saving technology, they actually added some innovative new features. Unfortunately, the Jobsite SawStop is still priced well above what most people can afford.
Hot Deals
Chris May 28, 2014
0
1
If you are looking for a table saw at a bargain price, look no further than the DeWalt DW745 10-inch Compact Table Saw. I happened to notice that HomeDepot.com has them for the low price of only $269.00. A quick look around the internet and you will see this is priced lower than even refurbished models.
News
Chris August 08, 2013
0
1
Many home woodworkers dream of having a full-size cabinet saw in their garage converted workshop, but how many garages are wired to meet the 230V demand that most cabinet saws require? Enter the new Powermatic PM1000, a true cabinet-saw that requires only a standard 115V outlet.
News
Chris August 07, 2013
1
0
I spend quite a bit of time on the internet searching for new or interesting tools to share, but I can't find them all. Thankfully Tool-Rank has readers that also send in their finds. Yesterday a tipster sent in a link to a unique tool that turns your table saw into a lathe of sorts.
News
Chris September 13, 2012
1
1
I came across an interesting tool called a Push-Pull saw that is available in Europe by Bosch. It is unique in that it is almost like a cross between a table saw and a radial-arm saw. I know those tools sound like an impossible match, but Bosch managed to bring the two tools together.