2 results - showing 1 - 2  
Tool Blog
Chris   August 03, 2016  
1
1
There is one storage box that Mythbusters' Adam Savage loves so much that he uses dozens of them in his workshop to try and stay organized; that box is the T-BOXX from Sortimo. Unfortunately, until now it has been rather difficult trying to locate his storage box of choice.  Thankfully, after much anticipation, Sortimo has launched a new online store for the US, something I asked them to do years ago when I first wrote about them.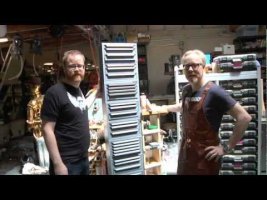 News
Chris   September 24, 2012  
1
0
Being on a show like Mythbusters it is pretty obvious that Adam Savage has a passion for making things. A person that makes things ranging from a small knick knack to a large catapult ultimately requires that he has a part for every situation and in every size. So with that many parts, how does he stay organized?
2 results - showing 1 - 2