16 results - showing 11 - 16
News
Chris May 04, 2011
1
0
Being a good construction worker often requires a lot of tools, but taking all of those tools to the jobsite everyday then bringing them home again can be a pain. The other option is to leave your tools on the job in a lockable jobsite box. The second method is what many of us use, but if you are a one-man-band, moving, loading, and unloading a large jobsite box can be darn near impossible. Though thanks to the Vault by Rescue 42, any one person can enjoy the safety of a jobsite box. The...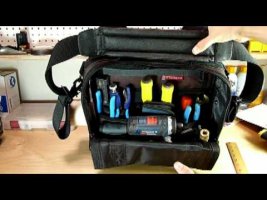 Reviews
Chris March 28, 2011
1
0
Tool organization is not one of my strong suits, so when Veto Pro Pac said they wanted to send me one of their tools bags to review, I happily accepted. What they sent out was their LC bag, the smallest of their closed top bags. You might be unfamiliar with Veto Pro Pac because they are not something you will find in your local bigbox store, but they have become popular amongst contractors because of their design functionality, and high quality build. I think the problem with most tool bags is they...
News
Chris March 11, 2011
0
0
Stanley emailed out a survey today with questions regarding a possible new modular shelving system. From what I gathered from the survey, people can simply buy one of their 4-shelf (plastic) or 5-shelf (metal reinforced plastic) units from the system and use it alone, or combine it with the modular add-ons. The add-ons include Drawers, Doors and side panels that form a cabinet, and Storage bins. The system does not require tools to assemble, which makes the modular design even better. I am happy to see a Made In USA logo on the packaging, but these haven't hit stores...

News
Chris December 21, 2010
0
0
If you are a fan of the Systainer stackable storage system, you will probably be happy to know that Tanos has given the Systainer a much needed update. The new T-Loc Systainer not only ditches the old bland look for something much more stylish, but the hardware sees a huge change with a completely re-engineered latch system. What once required 4 latches to mount one box to another, now only requires one. The T-Loc makes use of two hooks to keep the back of the boxes together, and a single locking knob to latch the front....
Editorial
Chris April 09, 2009
0
0
Here is a quick tip on how I keep my cords and air hoses tied up after I am finished with them. I take a piece of flexible rope and tie it around my extension cord or air hose using a clove hitch knot, I then tie a knot on both ends of the rope to keep the rope from fraying. The idea is that the rope will always be on the cord, so it is there when you need it. The reason I use a clove hitch knot is because it will stay...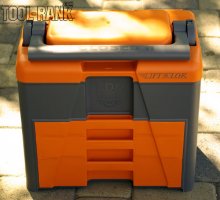 Reviews
Chris September 09, 2008
0
0
ManufacturerPDY Systems Supplied byPDY Systems Price $59.95 Buy [:cicn:] Amazon Introduction Today we are taking a look at the Lift-n-Lok tool organizer by PDY systems. If you go into any store looking for any toolbox, craft box, tackle box, or whatever box, you will notice one thing in common. They have some type of exterior latch or catch that is used to keep them secure. This is where the Lift-n-Lok goes beyond the norm, and sets a new paradigm. It features...
16 results - showing 11 - 16