2 results - showing 1 - 2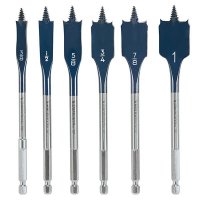 Hot Deals
Chris   April 21, 2014  
1
1
Amazon has one of my favorite drill bit sets on sale for less than $10, the Bosch 6-piece DareDevil spade bit set. Bosch's DareDevil spade bits were one of my first reviews back in 2008, and guess what, I still like them. They were even given the prestigious Tool-Rank Pick award, which has only been given out 10 other times.
Tool Blog
Chris   February 12, 2014  
0
0
Ideal is probably not the first company you think of when you think about drill bits, but they are looking to change all that with the introduction of their new line of professional grade drill bits. Catering to their core audience of electricians and technicians, Ideal sought to improve the drill bits these contractors use most.
2 results - showing 1 - 2