7 results - showing 1 - 7
Tool Blog
Chris August 03, 2016
1
1
There is one storage box that Mythbusters' Adam Savage loves so much that he uses dozens of them in his workshop to try and stay organized; that box is the T-BOXX from Sortimo. Unfortunately, until now it has been rather difficult trying to locate his storage box of choice.  Thankfully, after much anticipation, Sortimo has launched a new online store for the US, something I asked them to do years ago when I first wrote about them.
Tool Blog
Chris October 29, 2012
2
4
We all need to eat, so having enough food on hand incase of a natural disaster is key. The East Coast is currently being hit by hurricane Sandy and the days leading up to the storm led to crowded stores full of the unprepared looking to stock up on food. Building a disaster kit ahead of time could have saved these people a lot of stress.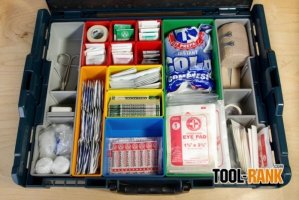 Tool Blog
Chris October 22, 2012
1
10
One thing you should always have, whether you are prepping for a natural disaster or not, is a good first aid kit. In the first part of my 72-hour emergency kit build I make use of the dividers that are included in the model L-BOXX1A, which is part of the Bosch Click & Go modular storage system.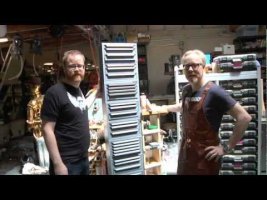 News
Chris September 24, 2012
1
0
Being on a show like Mythbusters it is pretty obvious that Adam Savage has a passion for making things. A person that makes things ranging from a small knick knack to a large catapult ultimately requires that he has a part for every situation and in every size. So with that many parts, how does he stay organized?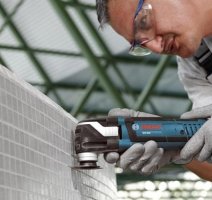 News
Chris March 08, 2012
1
4
I just received official word from Bosch that their new tool-less accessory change Multi-X oscillating tool is available now in stores. The new tool-less feature is something that we have all been waiting for, but the MX30E has other notable features that make the upgrade that much better. And at $199, the MX30E is still priced to match or beat the Fein MultiMaster.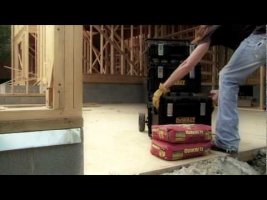 Editorial
Chris October 04, 2011
1
0
Where oh where could it be? The DeWalt ToughSystem was one of the products that really caught my eye back when DeWalt made their big product announcement in June. The system might not have anything new in terms of stackability compared to the Festool Systainers, or the Sortimo L-Boxx, but they had other features that, in my opinion, really put the ToughSystem boxes up a level. The other brands, as well as the DW ToughSystem, feature a lock-together stacking feature, but DeWalt was the first to engineer a transport system that did more then just carry boxes....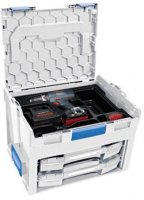 News
Chris June 17, 2011
0
0
Sortimo has announced their new LS-Boxx, which is identical in size to their medium L-Boxx's, but instead has an opening in the front for removable trays. These trays, called i-Boxx's comes in two sizes and come with insert boxes and feature a transparent lid. The top portion of the LS-Boxx opens just like a regular L-Boxx and can house small tools such as cordless drills. The advantage of this new box is its ability to carry a tool in the top, and all the accessories needed in the tray's below. Sortimo talks about different tray options...
7 results - showing 1 - 7