5 results - showing 1 - 5  
Tool Blog
Chris   November 08, 2016  
1
1
We are seeing more and more tools improved with the addition of technology that makes them smart. Nova is bringing the improvements that come along with the Smart Motor technology from DVR Technology Developments, Inc. to their Voyager 18" Drill Press (NOVA-58000T).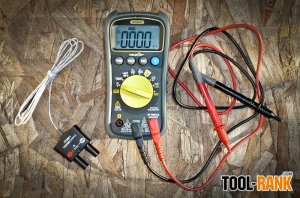 Reviews
Chris   July 31, 2016  
0
9
When General Tools announced their new line of ToolSmart smart tools and asked me to review them, I said I was game. I think the idea of smart tools is what most tools will be in the future, which is why I wanted to see what Generals Tools has to offer. I wasn't really expecting a whole lot from General Tools, after all, they are not one of the big four; but boy was I in for a surprise.
Reviews
Chris   July 14, 2016  
1
3
When I first heard about the features Milwaukee was planning on incorporating into their One-Key system I could not help but feel like a little kid waiting for that hot new toy of the year to come out. After getting samples of the Milwaukee One-Key Drill (2705-20) and the One-Key Impact (2757-20), and after the new-tool-high started to wear off, I got down to business, trying to find out if the One-Key system is a useful feature or just something fancy that I can show to the co-workers but would rarely use. Is was time for me to...
Tool Blog
Chris   September 02, 2015  
1
1
It is easier than ever to find great cordless power tools no matter the brand, so to set your company apart from the rest you need to think outside the box. DeWalt may have done just that with their new line of Bluetooth enabled 20V MAX 2.0 Amp (DCB203BT) and 4.0 Amp (DCB204BT) lithium ion batteries. Of course, Bluetooth by itself is pointless, which is why DeWalt has introduced their Tool Connect App, which allows users to control their new batteries with their smartphone.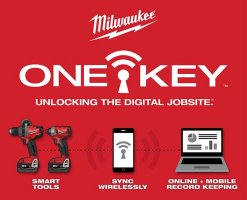 Tool Blog
Chris   July 29, 2015  
1
2
What is Milwaukee ONE KEY? Milwaukee is already adding technology, such as Redlink Plus, to their M18 cordless tools to ensure that they perform at their peek at all times, no matter the conditions. One Key is the next step in combining power tools with the latest technology, to make Smart Tools. One Key is Milwaukee's own custom-build Cloud based program that will change the way contractors use their tools, by giving them more information and more control over their tools. Milwaukee has big plans for One Key, which they will be rolling out in stages...
5 results - showing 1 - 5