8 results - showing 1 - 8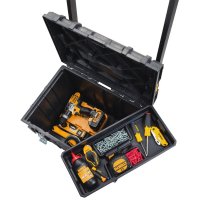 Tool Blog
Chris   December 06, 2016  
1
8
The DeWalt ToughSystem is by far the best solution I have come across to store and transport my tool to and from the jobsite, so I get excited when I hear about any new products in the ToughSystem line. In addition to a couple of new ToughSystem storage boxes, DeWalt finally has a solution to storing their boxes in a workshop.
Tool Blog
Chris   August 03, 2016  
1
1
There is one storage box that Mythbusters' Adam Savage loves so much that he uses dozens of them in his workshop to try and stay organized; that box is the T-BOXX from Sortimo. Unfortunately, until now it has been rather difficult trying to locate his storage box of choice.  Thankfully, after much anticipation, Sortimo has launched a new online store for the US, something I asked them to do years ago when I first wrote about them.
Tool Blog
Chris   April 28, 2015  
0
4
Milwaukee is continuing to expand their new line of jobsite storage solutions with the introduction of a new transparent-lid Jobsite Organizer 48-22-8030. While it may look like other jobsite organizers on the market today, Milwaukee says theirs has been "meticulously designed" for "increased productivity", and provides 20% more capacity than the competition.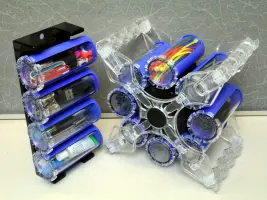 Tool Blog
Chris   August 20, 2014  
0
1
Portable organizational systems typically feature some type of box with a lid, they might even have removable cups that make using one item at a time easier for the user. But what if there was a better way to get organized? What if the cups themselves had lids, and instead of a large storage case, these cups attached to a framework to join with other cups? That is the idea behind the Twist Tubes, a new project up on Kickstarter.
Tool Blog
Chris   July 28, 2014  
0
1
.50 ammo cans are readily available at military surplus stores at mostly reasonable prices (from $5-$20), which is why they make good storage cans for various items. However, because of their large size they are not always great organizers for smaller items.  But one product aims to change your .50 cal organization problem.
Tool Blog
Chris   July 21, 2014  
0
1
How many different types of screws, nuts, bolts, washers, or anchors does a person need for any given task? If you were to look at the current selection of screw organizer boxes, 10 seems to be the magic number. But in reality, most tasks only require a few different fasters, the rest are just extra weight we have to carry around for a completely different task. This why I am happy to see that DeWalt has come out with a new Mid-Size Pro Organizer that is about half the size of other screw organizers.
Tool Blog
Chris   March 06, 2014  
0
1
Keter is the maker of those popular cantilever organizers and toolboxes that you for sale at the Home Depot, or as part of a Kreg Jig kit. Keter offers them in a few different sizes and configurations, but up until now they have all been 2-tiered models. Well that has all changed.
Hot Deals
Chris   February 13, 2014  
0
1
Good small parts organizers are surprisingly expensive, and since the last small parts organizer deal was so well liked, I thought I would share another one with you. Amazon has the Stack-On SB-18 on sale for only $5.88, a savings of about 50%.
8 results - showing 1 - 8