7 results - showing 1 - 7
Tool Blog
Chris August 03, 2016
1
1
There is one storage box that Mythbusters' Adam Savage loves so much that he uses dozens of them in his workshop to try and stay organized; that box is the T-BOXX from Sortimo. Unfortunately, until now it has been rather difficult trying to locate his storage box of choice.  Thankfully, after much anticipation, Sortimo has launched a new online store for the US, something I asked them to do years ago when I first wrote about them.
Tool Blog
Chris March 13, 2015
0
4
Do tool chests need to be made of metal? Well if Keter is making them, their answer is no, as Keter is a manufacturer of plastic products. Their modular tool chest system will allow users to customize their tool storage to match their needs, and adjust as they grow.
Tool Blog
Chris July 28, 2014
0
1
.50 ammo cans are readily available at military surplus stores at mostly reasonable prices (from $5-$20), which is why they make good storage cans for various items. However, because of their large size they are not always great organizers for smaller items.  But one product aims to change your .50 cal organization problem.
Tool Blog
Chris July 21, 2014
0
1
How many different types of screws, nuts, bolts, washers, or anchors does a person need for any given task? If you were to look at the current selection of screw organizer boxes, 10 seems to be the magic number. But in reality, most tasks only require a few different fasters, the rest are just extra weight we have to carry around for a completely different task. This why I am happy to see that DeWalt has come out with a new Mid-Size Pro Organizer that is about half the size of other screw organizers.
Hot Deals
Chris November 29, 2012
1
1
You might not have heard about Keter, but you have probably seen their products around, especially their Cantilever Organizer. You can find their boxes in all kinds of stores under many different names, but now you can find an actual Keter named 18-Inch Cantilever Tools Box at Sams Club at a really good price.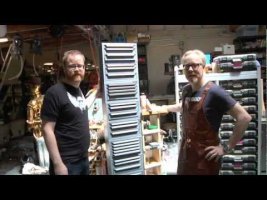 News
Chris September 24, 2012
1
0
Being on a show like Mythbusters it is pretty obvious that Adam Savage has a passion for making things. A person that makes things ranging from a small knick knack to a large catapult ultimately requires that he has a part for every situation and in every size. So with that many parts, how does he stay organized?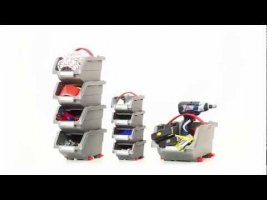 News
Chris June 07, 2012
1
0
So I was perusing the Keter website the other day and came across their new Click Bin product. The Click Bin is similar to other stackable small parts bins on the market today, but what sets it apart is the ability to lock the bins together in stacks, kind of like the modular toolboxes from other manufacturers.
7 results - showing 1 - 7