6 results - showing 1 - 6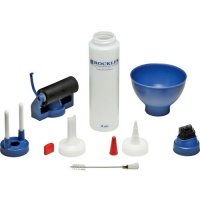 News
Chris August 06, 2013
0
8
If you do a lot of work with wood, you might find that your glue bottle gets used just as much as your other tools. So in an effort to make the task of gluing as easy as possible for every application, Rockler has come out with a new Glue Bottle Applicator Kit. Rockler even found a way to make a silicone brush into an attachment.
Reviews
Chris January 16, 2013
1
0
Last year I reviewed the first and original silicone glue brush from Rockler and was impressed right away by how well it worked. And while I liked the brush and recommended it, I did have a problem with it not being able to fit inside a glue bottle. Rockler's solution? The Mini Silicone Glue Brush.
News
Chris November 14, 2012
0
3
Silicone Glue application tools must be gaining in popularity. Rockler first started out with their basic Silicone Glue Brush early in the year, then just a few months ago they developed a full Silicone Glue Application kit; but the New Silicone Mini Glue Brush is what I was waiting for.
News
Chris August 14, 2012
0
1
Not too long ago Rockler came out with their silicone glue brush and it received rave reviews. In light of such success, Rockler has just expanded from just the silicone glue brush to a full silicone glue application kit.
Reviews
Chris March 11, 2012
0
0
Rockler must have a great team of product researchers in their employment because every year they come out with a few great products that either fill a void, solve a problem, or improve upon a design. This year one of their products is the silicone glue brush. Some of you guys wanted to know how well it worked, and Rockler was kind enough to send me one, so I put it to the test.
News
Chris February 09, 2012
0
0
Instead of buying a large quantity of regular glue brushes that you always end up throwing away, Rockler wants you to buy their new Silicone Glue Brush (45624), keep it, and reuse it over and over again. Their Silicone Glue Brush looks like a mini version of a silicone brush you might find in a kitchen, and if the technology works so well in the kitchen, it might be worth giving it a try in the shop.
6 results - showing 1 - 6