9 results - showing 1 - 9  
Reviews
Gary   October 10, 2014  
0
8
A dilemma for me has often been how to nail up fine wood molding without marring it with large unsightly holes or peppering it with oodles of smaller holes. When it comes to nailing trim work, is it possible to have the holding strength of an 18-gauge nail while leaving a mark not much greater than a 23-gauge headless nail? Senco may have the answer with their new 21-gauge slight-head pinner.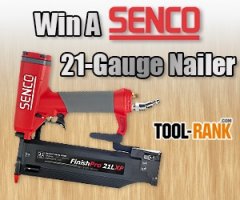 Tool-Rank
Chris   June 02, 2014  
1
1
Contest Information
Contest Ends
June 30, 2014
It's giveaway time. This month Tool-Rank has teamed up with Senco to giveaway a brand new product, their new 21-gauge FinishPro Nailer. When an 18-gauge nailer is too big, and a 23-gauge is too small, Senco says their new 21-gauge nailer is just right.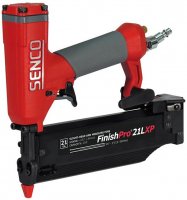 Tool Blog
Chris   April 21, 2014  
0
1
When 23-gauge is too small and 18-gauge is too big, Senco says their 21-gauge nailer is "just right". But unlike most pin nailers, the new Senco FinishPro 21LXP uses nails that have a slight/medium head. Senco says it delivers the holding power of a brad nail with a much smaller hole.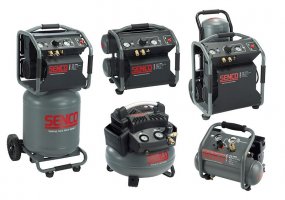 Manufacturer News
Chris   October 29, 2013  
0
1
If you are looking for a lightweight compressor that is portable and can tackle trim work, Senco has new 1-gallon and 6-gallon compressors that might be just what you need. If you want to go bigger, they have also announced three new 200 PSI compressors.
Manufacturer News
Chris   October 11, 2013  
0
1
If you having been paying attention to our giveaways, you might have noticed that Senco has come out with an all-new 3-inch DuraSpin Auto-Feed Screwdrivers. In addition, Senco also came out with an extension pole attachment and other accessories to make using their new guns as easy as possible. If cordless is more to your liking, they also have an 18-volt model ready and waiting.
Tool-Rank
Chris   September 30, 2013  
0
1
Contest Information
Contest Ends
October 31, 2013
If your back is tired of you always having to bend over to screw down floor boards or decking, you are probably going to want to enter our giveaway to win a Senco DS440AC Auto-Feed extension screwdriver Kit.
News
Chris   April 26, 2013  
0
1
If you want to nail into concrete using pneumatics, usually you need a special high-pressure compressor to go along with a high-pressure nailer. Senco's new SCP40XP concrete nailer lets you use your regular air compressor yet drives up to 1-1/2-inch nails into concrete.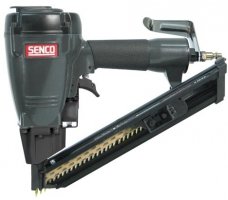 News
Chris   December 08, 2011  
0
2
Senco hasn't been on the radar much lately, though they made a pretty big splash with the introduction of their cordless Fusion line of nail guns a while back. However, it looks like Senco has several products they will be introducing in 2012, and they are starting with a couple of metal connector nailers.
News
Chris   October 11, 2011  
0
0
Senco took cordless nailers in a new direction when they introduced their Fusion line. Instead of using fuel cells or fly-wheels, Senco developed a recharging close-looped compressed nitrogen system that acts kind of like a mini air compressor built right into the gun. Senco initially released 15-gauge and 18-gauge versions of the nailer, and now they are expanding to include a 16-gauge straight nailer (F-16S), and a 16-gauge angled nailer F-16A. "We've had tremendous success converting pneumatic, battery, and gas-powered customers to the F-15 and the F-18," says Dave Moore, Senco's director of Fusion technology....
9 results - showing 1 - 9