7 results - showing 1 - 7  
News
Chris   January 29, 2014  
0
1
Bosch is introducing a new SDS-Plus Mortar Knife Attachment that they say provides faster and easier mortar removal from between bricks, block and, stone. Either that, or it is the fastest butter knife attachment on the market.
News
Chris   April 04, 2013  
0
1
Milwaukee Tool is continuing to expand their M12 Line of cordless tools with the introduction of the new 2416-22XC M12 Fuel 5/8-inch SDS-Plus Rotary Hammer. As noted, the new tool carries Milwaukee's "Fuel" branding, which means it also features their new Powerstate brushless motor technology.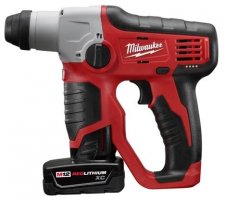 News
Chris   September 06, 2012  
0
1
When I am reading about new tools I always think about how these tools will help me on the job. When I see the new sub-compact 2412-20 M12 SDS-Plus Rotary Hammer I think of all the times I had to run hundreds of feet of extension cords so I could drill holes to set door thresholds at hotel jobs. The 2412-20 seems perfectly suited for these types of jobs.
News
Chris   February 22, 2012  
0
0
You can find quality tools from all of the major brands, but each brand also has their own tool or tools that they really specialize in. For Bosch, they really shine in jigsaws and rotary hammers. So it comes at no surprise that Bosch's latest Bulldog Xtreme Max Rotary Hammer (RH228VC) boasts best in class drilling capacity, speed, and vibration reduction.
News
Chris   February 10, 2012  
0
1
Hammer drills are becoming more and more powerful and can handle many of our concrete drilling needs, but when we need to drill larger holes or we need speed, a rotary hammer is the way to go. Bosch's new RHS181 18-volt cordless rotary offers the portability we want from hammer drills, with the power we expect from rotary hammers.
News
Chris   January 24, 2011  
0
0
Like me, you probably didn't make it to the World Of Concrete trade show in Las Vegas. But this is OK, we still have news on some new tools from Bosch that add to their growing cordless line. Both tools are in the 18 volt Litheon line, the first being a 4-1/2" Angle Grinder, and the second is an SDS-Plus Rotary Hammer. The Bosch Litheon line is ever growing, but it still has a ways to go to catch up to Makita. Bosch looks to be doing things right with the new CAG180 Angle...
Manufacturer News
Chris   September 04, 2009  
0
0
No, you are not day dreaming... Makita has just introduced a brand new 36 volt cordless LXT lithium-ion 1" SDS-Plus rotary hammer. Makita says the new BHR261 was designed and engineered to offer the power and speed of a corded 1" rotary hammer, with the freedom offered from being cordless. The BHR261 has 3 modes of operation that should accommodate all of your construction/destruction needs: "Rotation only" for those delicate materials, "hammering with rotation" for drilling into harder tougher materials, and "hammering only" used for material removal. The BHR261 uses a Makita built motor...
7 results - showing 1 - 7