7 results - showing 1 - 7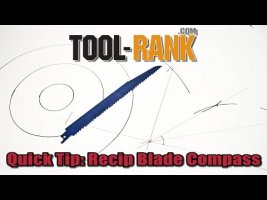 Editorial
Chris   July 16, 2014  
1
0
Have you ever found the need to draw a perfect circle but you don't have a compass (drafting) or anything round to trace? Well, if you have a reciprocating saw blade laying around, you can use it to make near perfect circles in a wide range of sizes.
News
Chris   June 14, 2013  
0
1
Freud has announced that they have come out with a new line of saw blades that they have specifically designed for use on Festool track saws. The new series is also the first and only anti-vibration designed saw blade for a Festool saw.
News
Chris   October 11, 2012  
0
0
What do you do when your jigsaw blade is not long enough? Until now you might have turned to a reciprocating, if you have one. Now with the introduction of a new line of blades from Bosch, you can turn to one of their new 10-inch Extra-Long Precision jigsaw blades.
News
Chris   June 28, 2012  
0
1
The process for making good circular saw blades is not too complex and thus circular saw blades are becoming increasingly better as the years go by. Because the process is simple, manufacturers are looking at every possible way to get an edge on the competition. Lately the quest for blade superiority has led brands to master blade coatings. Making a sharp blade is not enough.
News
Chris   March 29, 2012  
0
0
So you have one of those 12V Ultra-Compact Reciprocating Saws, but how is your supply of blades for the tool? Thankfully most of these compact saws come with a couple of the smaller than usual blades with your purchase, but where do you turn when you have used them up? Bosch wants you to turn to them and their new line of Pocket Reciprocating Saw Blades.
News
Chris   August 18, 2011  
0
0
Bosch has recently announced a new Saw blade that is part of their DareDevil line. The blade is designed to perform better and last longer than other blades on the market, and if they are anything like their DareDevil Spade bits, framers really having something to look forward too. The boost in performance is due partly to features like Bosch's C3 Micrograin Carbide teeth, which are said to not only stay sharper longer, but they can also resist impact damage. Other features include a special coating on the blade that helps to reduce binding in wet...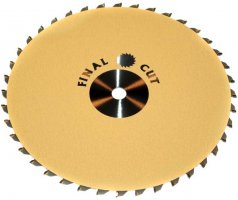 Reviews
Chris   August 25, 2008  
0
0
ManufacturerFinal Cut Supplied byFinal Cut Blade price:$75 Disks Price:$23-27 Introduction Every once in a great while a new product comes out that seems a little silly, but you know it just makes sense; Final Cut is one of those products. It is as simple as a sandpaper disk attached to the side of a saw blade. The Final Cut works on the theory of using lesser teeth that would usually leave a rougher cut, and let the Abrasive Disk, which is wider then the kerf of...
7 results - showing 1 - 7