2 results - showing 1 - 2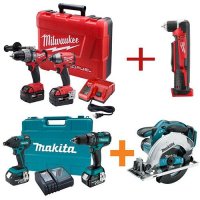 Hot Deals
Chris November 07, 2013
0
1
A reader sent in a tip about some sweet Free Bonus Tool promotions (with purchase of select Cordless Combo Kits) going on at HomeDepot. Initially we thought the promotion only applied to Makita and Milwaukee Tools, but it turns out there are DeWalt, Ridgid, Ryobi and Bosch deals as well.
Reviews
Gary September 10, 2015
1
4
The reason for buying a portable generator may vary from person to person—one might want to power up tools on a remote jobsite, another to use for camping and recreation, or still another for backup electricity during a power outage—but if your reason for choosing a portable generator is portability then you'll want a generator that's truly portable.
2 results - showing 1 - 2