News
Chris August 21, 2012
0
4
Black & Decker has just announced their new Matrix Multi-Head modular tool system which will allow users to build up their tool inventory one head at a time. Users will also be able to select the power of the new system by selecting one of three power base units.
Cool Tools
Chris May 21, 2012
2
0
I was going to take a lazy day today, because it is my birthday, and not post an article, but I came across these videos over the weekend of Matthias over at WoodGears building a cool new router copy contraption and thought I would share them. His latest machine accepts a small trim router and allows the user to use a follower to duplicate an object into wood. In his first example Matthias was able to copy a wrench and get some pretty good detail. If you want more information, be sure to watch...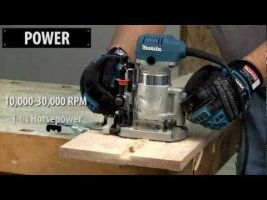 Manufacturer News
Chris March 26, 2012
1
0
We have seen in these last few years that people are moving away from bulky tools that do way more than they need from them, and instead are purchasing tools that better match their needs. In response to this, Makita has announced a new 1-1/4 HP Compact Router with multiple base options that should be able to handle most of your jobsite routing needs.
Hot Deals
Chris February 23, 2012
0
0
Looking for a good deal on a router and dovetail jig to go along with it? For a limited time Rockler is offering a Porter-Cable 690LR fixed base router and a 4210 dovetail jig for the low price of only $199.98. This is a savings of about $50 if you were to purchase each one separately from Amazon. The 690LR features a 1-3/4 horsepower motor that spins at 27,500 RPM's and comes including collets for both 1/4-inch and 1/2-inch shank bits. The 4210 dovetail jig has a 12-inch board width capacity and can be...
Hot Deals
Chris February 15, 2012
0
0
Ohio Power Tool is taking some of the deals they offer at The Wood Working Shows and is putting them online for all to take advantage of, and these deals are awesome. What they have is 20% off a few popular Bosch tools and the addition of free shipping. All four items are lower than what Amazon is offering. Take a look at the deals below, and be sure to use the correct coupon code for each product. PS31B – 12V Tool Only - $39 – Coupon Code: WW1 MRC23EVSK...
Hot Deals
Chris January 18, 2012
0
1
Ridgid's Trim router is a pretty good deal at around 100 bucks and the user reviews seem to back it up, but what if you could get an even better deal? Well of course this is a Hot Deal article, so a better deal does in fact exist. Home Depot is currently selling the Ridgid Trim Router for only $99, but it also includes a FREE bonus Ridgid 1/4-sheet sander; the sander alone sells for just under $50. The reviews on the sander do not seem to be as good as the reviews on the router, buy hey, you...
Manufacturer News
Chris December 22, 2011
0
0
What is a gift that keeps on giving? How about a Torchmate CNC Machine? With one of these, you are only limited by your imagination. As mentioned before, the Torchmate has the ability to use both a plasma cutter and a small Bosch Colt 1HP router to make its cuts. It is no wonder why Santa took to making extra gifts with a Torchmate he delivered for Christmas. Read all about it in the Torchmate version of "Twas The Night Before Christmas".
News
Chris October 14, 2011
0
0
Before there were loud but powerful electric routers, there were quiet and serene hand powered router planes. If you ever watch Roy Underhill on his woodworking show, you have seen how valuable these tools were, and still are. Sure powered routers can cut fast, but sometimes you just want the light touch that can come with hand powered tools. In an episode of Rough Cut, Tommy Mac demonstrated how the router plane easily cleaned up a dado cut with a router, without the need for any jigs or templates. Lee Valley has just introduced...
Manufacturer News
Chris August 08, 2011
0
0
When products are made incorrectly, the consumer is the real winner, and such is the case with these Router Mats from Woodpeckers. Woodpeckers picked up a full pallet of router mats that were cut to an incorrect size of 22 x 25" and they are passing along the savings to us. For $25 you get a pack of 10 router mats, which is only $2.50 each; I don't even think Harbor Freight has them that low. The only thing that might get you is the shipping. There are a few different styles of router mats on...
News
Chris August 05, 2011
0
0
The trim router has always been a handy tool to have around the jobsite, and thanks to advancements in technology, these little guys have become more and more powerful over the years, at no cost to their compact size. Originally intended for only trimming laminate, these "Trim" routers are now powerful enough to handle many of the jobs of their bigger brother. Rockler has obviously seen that the new generation of trim routers are being underutilized, and have come out with a new trim router table to bump them up to their true potential....