Tool Blog
Chris July 22, 2016
0
3
Ooznest has announced that they have released a new hobbyist CNC Router Kit that is based on the OX CNC by Openbuilds. The full machine kit would allow users to mill parts from wood, plastic, and soft metals from their home shop or garage.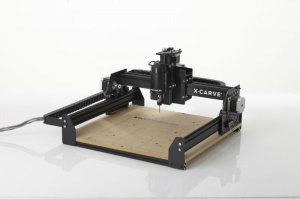 Tool Blog
Chris March 03, 2015
2
4
X-Carve is the latest desktop 3D Carving machine from Inventables Inc., the makers of the the popular Shapeoko 2 3D Carving CNC machine and other cnc desktop machines. With the X-Carve, Inventables is bringing affordable 3D carving to makers with a machine that can mill plastic, wood, and even metal at a starting price of only $799.
Videos
Chris May 07, 2014
1
0
If you loved the Etch-A-Sketch as a child and find yourself missing it as adult, then you will like what one guy built in his workshop. With only a few dollars worth of parts and a router, YouTube's Izzy Swan made the grown-up version of the classic child's toy. But instead of drawing with aluminum powder, his version carves into wood with a router. Like the classic Etch-A-Sketch, it takes great skills to draw something that actually looks like something—so I will not be making one of these.
Hot Deals
Chris January 31, 2014
0
1
Continuing on my quest to post more hot deals on tools and accessories, today we have the DeWalt DW616PK Fixed Base & Plunge Base Router Kit for the low price of $159.20. This is $20 cheaper than Amazon's regular price and much lower than some competing stores.
Hot Deals
Chris January 24, 2014
0
1
Amazon has a new lower sale price on the Porter-Cable 7312 Offset Base Laminate Trimmer. It was previously for sale at about $150 but has now been lowered to $125.77. As with all Amazon products its price could change at any time but usually it will stay the same for a couple of days.
News
Chris October 15, 2013
0
1
If you have had your eye on the CNC Shark system from Rockler Woodworking and Hardware, now might be the perfect time to make that purchase. Rockler has come out with a new Limited Edition Black Diamond version of their largest CNC Shark model that comes with some nice extras, such as surface mapping. Best of all, it is on sale for the same price as the Shark HD V2.0
News
Chris October 02, 2013
1
1
Rockler Woodworking and Hardware has come out with a new product that I think is pure genius; and this genius comes in the form of a new electric router fence that can be programmed to make cutting box joints, dadoes, and dovetails a breeze.
News
Chris June 27, 2013
2
1
With most CNC routers you have to bring the material to the machine, but the new Handibot CNC Router has you bring the CNC router to your material. Is this going to be the gateway to getting CNC routers on the jobsite?
News
Chris October 08, 2012
0
0
More than seven years ago Bosch released their Colt Palm Router; and who knew that all these years later it would be the router of choice by many tradesmen for light duty work. And while the Colt was good for light duty work, people always wanted more out if it. Now with the introduction of the PR011 Plunge Base, Bosch as given its tool all kinds of new possibilities.
Manufacturer News
Chris October 02, 2012
0
3
Who do we turn to when we need saving? Why the Justice League of course. But who does the Justice League turn to when the Hall of Justice needs saving from disrepair? Apparently they turn to the Craftsman Technician and his trusty Craftsman Bolt-On Modular Tool System.