2 results - showing 1 - 2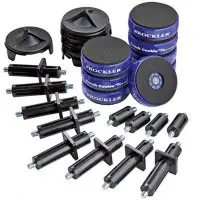 Hot Deals
Chris March 03, 2014
0
1
While Rockler's popular Bench Cookie Plus Master Kit normally sells for just under $64, it has come to my attention that it is currently on sale for only $39.99. The Plus Master kit not only includes a set of non-slip router cookies, but also a few different accessories that extend their versatility.
News
Chris September 15, 2011
0
0
I have been referring to router cookies as router pucks for a while now; as a hockey fan it was easy for me to make the obvious connection. I called them this because they do really look like hockey pucks, and I also wanted to stay away from using any trademarked names. Lee Valley also made the hockey connection, but being from Canada, they took the connection more literally then I did, and are now using actual hockey pucks for their router Bench Pucks. According to Lee Valley, they never wanted to get into...
2 results - showing 1 - 2