19 results - showing 11 - 19
Tool Blog
Gary July 02, 2012
1
5
Bosch, a name synonymous with professional grade tools and accessories, has recently concluded their 2012 press event. There, in addition to seeing their latest products, I got to meet some of the folks responsible for getting these great products into the hands of great professionals--like you. Informing our group, president and CEO of Bosch Power Tools, Terry Horan, mentioned that while other tool companies tout innovation, Bosch has their focus on invention, and that tweaking an existing tool to make it their own is not the way things are done at Bosch. I was reminded that Bosch is...
News
Chris February 22, 2012
0
0
You can find quality tools from all of the major brands, but each brand also has their own tool or tools that they really specialize in. For Bosch, they really shine in jigsaws and rotary hammers. So it comes at no surprise that Bosch's latest Bulldog Xtreme Max Rotary Hammer (RH228VC) boasts best in class drilling capacity, speed, and vibration reduction.
News
Chris February 10, 2012
0
1
Hammer drills are becoming more and more powerful and can handle many of our concrete drilling needs, but when we need to drill larger holes or we need speed, a rotary hammer is the way to go. Bosch's new RHS181 18-volt cordless rotary offers the portability we want from hammer drills, with the power we expect from rotary hammers.
News
Chris January 26, 2012
0
2
Dust collection systems, attachments and accessories always seem to be popular at the World of Concrete trade show. With concrete being the main ingredient of the show, there is bound to be a fair amount of concrete dust, so it is only obvious to showcase tools that help clean it up. Bosch has come out with a number of new DC products that are sure to be welcomed by the people that would normally have to work in a cloud of dust.
Editorial
Chris January 10, 2012
0
0
The world of tools is filled with lots of questions and confusions, which are sometimes magnified by tool manufacturers and their fancy way of using words to try and sell you something. These confusions can be hard for the consumer who just wants to buy the right tool. So, in order to clear up some of these questions, I thought I would answer some of the most common questions I receive.
Manufacturer News
Chris June 02, 2011
0
0
I predicted DeWalt would be announcing their 20 Volt line of tools in June, and here we are, I was right, and I am still not a fan of calling 18V tools 20V Max, but this is a battle I cannot win. I always say that if you are going to buy a cordless tool, you are really buying into the whole manufacturers cordless system. Once you own one tool from a manufacturer you are more likely to stick with the same battery and charger, so you buy other tools. So when a manufacturers...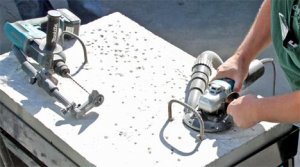 Manufacturer News
Chris February 09, 2011
0
0
Last week we saw a little about the latest dust extraction accessories Makita announced at WOC, and today I have some more information from a new press release to share. New Dustless Hammer Attachment (193472-7) The new dustless hammer attachment works with Makita SDS-PLUS corded and cordless rotary hammers. It features a 17" hose, telescoping spring-loaded barrel, depth stop, bit size adjustment knobs and a built-in ruler. World of Concrete attendees tried out Makita's new attachment and discovered several advantages versus competitive built-on systems, including better tool performance (competitor built-on vacuum motors...
News
Chris January 24, 2011
0
0
Like me, you probably didn't make it to the World Of Concrete trade show in Las Vegas. But this is OK, we still have news on some new tools from Bosch that add to their growing cordless line. Both tools are in the 18 volt Litheon line, the first being a 4-1/2" Angle Grinder, and the second is an SDS-Plus Rotary Hammer. The Bosch Litheon line is ever growing, but it still has a ways to go to catch up to Makita. Bosch looks to be doing things right with the new CAG180 Angle...
Manufacturer News
Chris September 04, 2009
0
0
No, you are not day dreaming... Makita has just introduced a brand new 36 volt cordless LXT lithium-ion 1" SDS-Plus rotary hammer. Makita says the new BHR261 was designed and engineered to offer the power and speed of a corded 1" rotary hammer, with the freedom offered from being cordless. The BHR261 has 3 modes of operation that should accommodate all of your construction/destruction needs: "Rotation only" for those delicate materials, "hammering with rotation" for drilling into harder tougher materials, and "hammering only" used for material removal. The BHR261 uses a Makita built motor...
19 results - showing 11 - 19