5 results - showing 1 - 5  
Tool Blog
Chris   February 25, 2014  
0
2
In response to user demand, Husqvarna is introducing a new SmartSwitch operator interface on select RZ series Zero Turn Mowers and GT series garden tractors. One key feature of SmartSwitch equipped Husqvarna mowers is that they do not require any keys.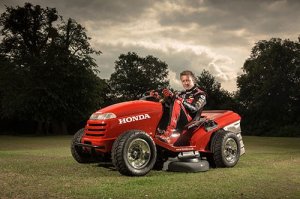 News
Chris   July 19, 2013  
1
1
Is there any practical reason for building a riding mower that can travel at 130MPH? Probably not, but that didn't stop Honda from teaming up with their British Touring Car Championship (BTCC) partner, Team Dynamics, to do it anyway. And as unpractical as it is, it can still cut grass.
News
Chris   February 22, 2013  
3
1
If you ever need to mow your yard one day and travel to a remote location to repair a fence the next, I think you might be interested to see what the Raven has to offer. This unique mower turns into an ATV, is powered by hybrid technology, and can be used as a portable electric generator.
News
Chris   August 22, 2012  
0
0
A couple of years back I wrote about the Weed Eater One Riding Mower. I really liked the idea of this super compact mower that you could ride and cut your grass with, for people with a small yard. Unfortunately the reviews of the mower started to come in and they were not very good. So now it was my job to try and find you something better.
News
Chris   February 19, 2010  
0
0
I typically do not cover landscaping tools, but there is a first for everything and I know people have an interest in anything that will make life easier or more enjoyable. The grass in my yard is starting to come out hibernation and getting to the point where it needs to be cut. Probably like many of you, mowing is not something I enjoy; for some reason I do not like pushing a mower when it is 100 degrees in the summer. The WeedEater One riding mower looks like it was designed...
5 results - showing 1 - 5